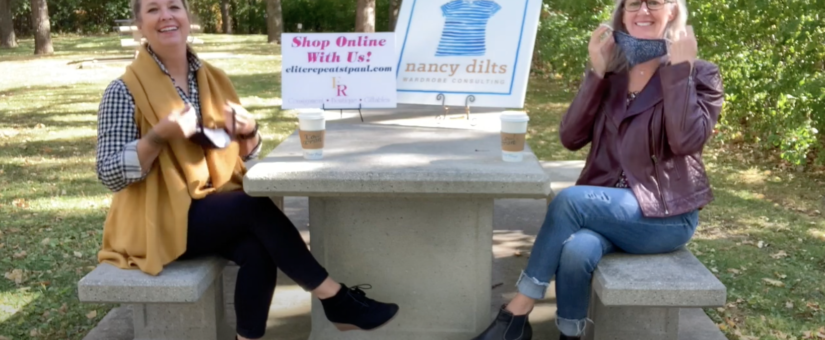 On October 19, 2020
0 Comments
#askthestylist, #ertv, consignment shopping, elite repeat st. paul, functional wardrobe, resale, sustainable consumerism
Watch all Ask the Stylist videos and more on my YouTube Channel!
Meet the Stylist 2 Video Transcript
Missy: Hello everyone. And welcome to Elite Repeat's Ask The Stylist. I'm here with Nancy Dilts, of Nancy Dilts Wardrobe Consulting, and we're shaking it up. Today is part two of "Meet The Stylist." So last week we talked about Nancy's business model and tell us what that is.
Nancy: My tagline is "Style for everyday: new to you, true to you."
Missy: So we discussed the "true to you" part last week. Talk to me about what the "new to you part" is.
Nancy: So the "new to you part" has to do with the fact that I had a 20 year career in the environmental field before I started my business. And a big part of what I do with my clients is to help them build a sustainable wardrobe. And that is done primarily with shopping new to you at consignment stores like the wonderful Elite Repeat.
Missy: That's how we met!
Nancy: Yes!
Missy: And tell me about some of the services that you offer. What would a typical client ask you to help them with?
Nancy: So a lot of times, building an effective wardrobe, or a sustainable wardrobe, means starting with the clothes that you already own and making them as functional as possible. So I do wardrobe consults, both in person and online. And that's where we look at the clothes in your closet, and it usually involves quite a bit of purging. Sometimes not, but it depends.
And making the things that you don't purge as functional as possible. So putting them together in new ways and figuring out the clothes that you need in your wardrobe, or need to be replaced, that would help make it more functional.
And that's where the new to you shopping comes in. So then I also go, I take clients to consignment stores, often Elite Repeat because they have such a fantastic selection of clothes. And shopping new to you is so wonderful because you can get higher quality clothes at an affordable price, but they're actually things that will last much longer than buying fast fashion at the mall, because they're much better quality.
Missy: And you had given me a statistic that was alarming.
Nancy: It is very alarming. So the fashion industry is actually number two only to the oil industry in terms of environmental pollution. And when you think about that, that's pretty horrifying. So by shopping new to you at consignment stores, you are actually helping to reduce the impact on the environment. And it's better on your budget too, which is a really nice bonus!
Missy: Right. Well, thank you so much, Nancy. I have, like I said before, the pleasure knowing you as a co-worker and friend for over four years, and Nancy truly speaks from the heart, and she is the real deal.
Nancy: Thank you, Missy.
Missy: You practice what you preach and it shows, and I've seen it work with your clients and have really watched them learn and shine from what you have taught them.
Nancy: Thank you.
Missy: So thank you for being part of this, this whole series. If you guys are interested in connecting with Nancy, check out her website, nancydilts.com. And again, thank you. Do you have any tips for us for this week?
Nancy: Okay. So one other statistic is that people often, most people in America only wear about 20% of their wardrobe. So take a peek at your wardrobe and those things that just are languishing in there, don't let them bog you down. Take them out of your closet and either consign them or donate them because that'll make your wardrobe feel better and be more freeing.
Missy: There we have it. Thank you so much for joining us. I hope you guys are able to get outside and enjoy this beautiful weather while we have it. Nancy, we'll see you next week.
Nancy: Yes. Thank you.
Missy: Thanks everyone.
Nancy: Bye-bye.
More on building a sustainable wardrobe
A Functional Wardrobe: fewer items, more outfits