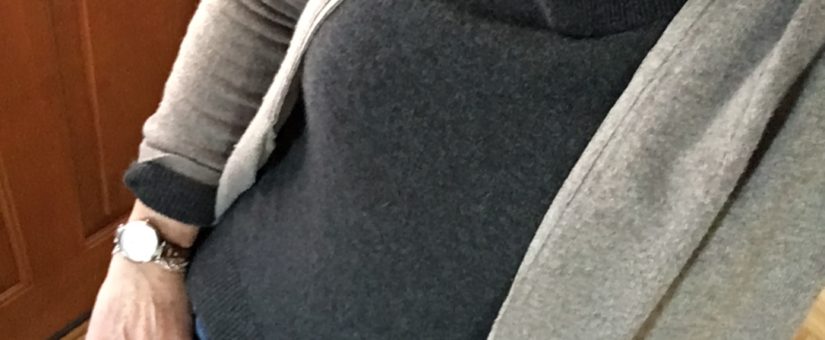 On May 24, 2018
0 Comments
#30wearscampaign, #outthedoor, capsule wardrobe, functional wardrobe, intentional dressing, minimalism, personal style, project 333, sustainable consumerism
Functional vs. many
If you follow my Out the Door series on my Facebook page, you'll know that I wear many of my clothes frequently, especially basics like jeans, tees, and jackets. This is intentional. When shopping (at least 90% of the time new-to-me), I choose pieces that are classic in design and well constructed, so they go with many things and are long-lasting in terms of both style and wear. A highly functional wardrobe makes for less stress in dressing!
More with less
As a wardrobe consultant whose niche is to practice sustainable consumerism, I follow three steps with my own wardrobe and model them when working with clients:
Make your existing wardrobe as functional as it can be
Shop new-to-you whenever possible
Shop ethically when shopping new
It's a personal choice whether your wardrobe is large or small, although studies show that most people wear only 20% of the clothing in their closets.
Often the other 80% languishes because the clothes either don't work anymore (don't fit well, outdated, damaged/worn out) or you don't know how to wear them. Making your wardrobe more functional by purging the ones that don't work and creating multiple outfits with what does allows you to have more choices with less clothing.
Define your personal style
I have a classic personal style with preppy and French-influenced overtones. Think gingham, plaids, loafers, and tailored fitted cuts. My signature style is a polished jeans outfit – you'll find me in that most days of the year. It works really well for my personal style, my body type, and my life/work style. In the hot summer months I switch to dresses, shorts, cropped pants and jeans, and some skirts.
Having a defined personal style helps you to be intentional both in shopping and in putting together outfits, which ultimately makes daily dressing easier. When you are clear about the clothes that suit you – both physically and in reflecting your authentic self – you inherently become more selective.
This eliminates those impulse purchases that end up as unworn regrets hanging in your closet. The clothes that you are holding onto for whatever reason but aren't wearing can be purged without guilt. Knowing your personal style frees you.
Feeling current
I choose trends carefully. It's important to feel contemporary – wearing something that's on trend can help you feel current and confident – but choose only trends that resonate with you and your personal style. Wearing something you don't really like won't bring you joy, even if it is trendy!
Trends that are more enduring, like colors of the season (they really are all just variations on a theme), classic prints like polka dots and plaids, and timeless pieces like trench coats and silk scarves, are worth the investment. They won't be "out" next year and end up a regret in the long run. Not only will they last, they also help you feel like you are being intentional (that word again – can you tell how important I think it is?) with how you dress. And that makes all the difference.
Capsule wardrobe
Many people are embracing the idea of a minimalist wardrobe, like Courtney Carver's Project 333 (wear only 33 pieces of clothing for 3 months), to have a smaller wardrobe and less stress. The idea is to put together a wardrobe where everything goes together, so that you can mix and match to create multiple outfits with fewer clothes. One caveat is that wearing the same items so frequently will cause them to wear out faster and you may tire of them more quickly.
I have more than 33 pieces per season, but there is value in thinking about the capsule approach. Determining that you can make at least 3 outfits with an item before you purchase it, with the added commitment that you will wear it at least 30 times before discarding it will lessen those impulse buys and the guilt that often comes with them. It also is easier on the environment, reduces the demand for poor-quality fast fashion that relies on unethical labor practices, and is more economically sound for you in the long run.
Function fosters confidence
Having a wardrobe that meets the needs of your life and that represents who you are helps you to feel good about yourself. And feeling good about yourself conveys confidence, which not only impacts how others see you, but also impacts how you move through the world. It's a cycle – what you are wearing impacts how you feel, and how you feel impacts how you live.
A functional wardrobe allows you to dress intentionally,  which makes that cycle positive rather than negative. You don't need a lot of clothes to achieve that – only clothes that serve you well.