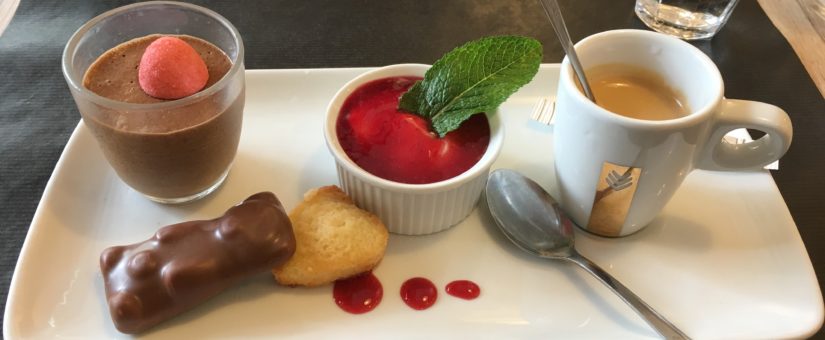 On June 21, 2018
0 Comments
France, summer dresses, summer shoes, summer travel, travel, travel capsule wardrobe

It's research – really!
My husband travels to Europe periodically for work and research. Sometimes (not always, darn it) I get to go along and "help" by taking photos, being a second set of ears and eyes, etc. Someone has to do it, right?
This time I joined him for a quick visit to Germany to see good friends and then on to Lyon and the Provence region of France for the research. I know, it's a shame.
When we travel, abroad or in the US, I do my own research. Style trends are different everywhere you go. I find it endlessly fascinating to people watch and take in what people are wearing, what's in the shop windows, and what you can find new-to-you. And I especially love French fashion – the casual elegance is inspiring.
Travel light
We stayed in Lyon for five days and then went on to Provence for four. We were gone two weeks total, and I did do laundry once in our Airbnb apartment (one of the many perks of renting an apartment instead of staying in a hotel). It's super important to travel light, especially when you are moving from place to place. It just bogs you down to have too much stuff to lug around on trains or even when renting a car.
I do the travel capsule approach when packing for a trip like this, making sure that everything goes together so I can wear things several times in different ways. You'll see in the outfit pics below that I wore my white jeans with several different tops, and the lightweight neutral cardigan ended up being a mainstay – the weather fluctuated a lot and was cooler than expected.
I brought very little jewelry on this trip and nothing of great value except for my wedding rings. This pendant necklace is graphically simple, so it pairs with a lot of things. I wore the oxfords frequently because they are super comfortable for a lot of walking.
Lyon
The shop windows in Lyon are stunning. Seeing the beautiful fabrics, designs, and attention to detail gives me so many ideas of ways to put things together and to have fun with my wardrobe (and yours!). A hands-down favorite were the patchwork pants at Atelier Yukako, an independent designer. So beautiful and whimsical!
The shopping
I did purchase a couple of new items in our travels. These pink Haflinger comfort sandals live up to their name – I walked at least 7-8 miles on this day, and I was so glad I had them on! I picked them up in Munich for half the cost you would pay for them in the US, and I love the color and design. I'll be wearing these for a long time.
The new-to-me Fossil cross-body bag was really great for keeping things organized in all its zippered pockets and comfortable for carrying all day. It's nice to be hands-free for taking pictures and browsing the markets and shops.
Lyon has a good number of resale clothing (dépôt-vente de vêtements) shops. I checked out four on this trip – two had many interesting pieces, one had only about 30 very high-end pieces (not sure how the shop could survive), and the last (Frip'&Cheap) was very much like a thrift shop. My dream is to someday move to France and open a consignment shop – who's with me?!
The weather
I struggled a little with temperature regulation (um, being prone to hot flashes and dramatic weather swings do not mix – at all). The weather kept changing in Lyon – it would be in the 60s and rainy/super humid and then 80 degrees. It kept swinging back and forth, so I was glad to have layers. I wore a sleeveless top and then wore the neutral cardigan or a sweater tied around my shoulders. I know I missed the brutal week of heat in Minnesota, so I'm not complaining (much)!
If you ever have opportunity, go to Lyon. This was our fourth visit, and I love it. Even more than Paris. It is gorgeous, the food is amazing, and the people are delightful. Just go.
Provence
We rented a car and headed to Provence, ending up in the Bandol region on the Mediterranean. We visited a street market, tasted wine at a vineyard, ate at cafés, and soaked it all up. Glorious!
This dress was another retail purchase – I found it at a shop in Lyon and couldn't resist the sweet beach umbrella print and breezy, summer style. It brings me a lot of joy and is classic in design, so won't go out of style. I know I'll wear it at least 30 times!
We stayed in an old Provençal villa with a lovely view and a donkey next door who greeted the day exuberantly each morning – at a reasonable hour, so it made me smile.
Bandol and Bendor
One day we went to Bandol, right on the coast, and took a ferry to the island Bendor. It was a hot day, so I was glad for this very lightweight sundress. Sundresses are great for travel, because they don't take up a lot of space, and they are effortless polish. If you need to cover your shoulders for warmth or for going into a religious institution, tie a sweater  or throw a lightweight scarf around them.
The bay was gorgeous, and the sleepy pace was just what we needed. So beautiful.
Travel home
Before we knew it, it was time to head home. The lightweight cardigan was perfect for the plane (both ways), and I paired it with athleisure pants, a tank, and sneakers. Super comfortable and the cardigan added a little polish.
My friend in Munich gave me this hilarious tote bag – the translation is "I have to go into the city to buy something for my headache – shoes…or something." It turned out to be a lifesaver, because of the shoes (and other things) I bought! My suitcase was filled to the brim – I turned it into my "personal item" for carrying on the plane along with my huge tote bag. Again, travel light so you have room to bring things home!