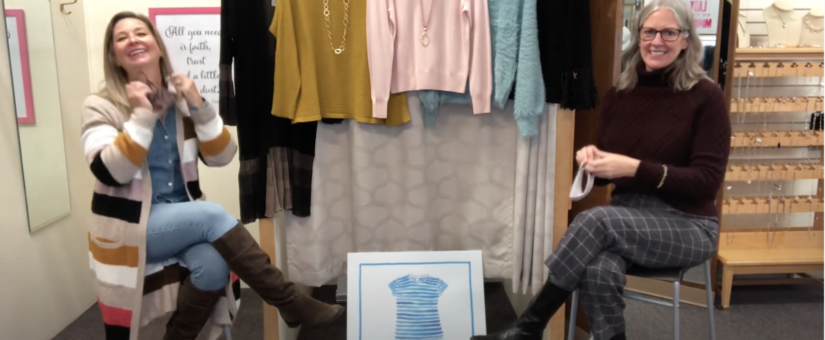 On October 29, 2020
0 Comments
#askthestylist, #ertv, consignment, consignment shopping, elite repeat st. paul, fall fashion, resale
Watch all Ask the Stylist videos and more on my YouTube Channel!
Ask the Stylist 6 Video Transcript
Missy: Hi, everyone. Welcome to Elite Repeat's Ask the Stylist. I am Missy, and I'm here today with Nancy Dilts from Nancy Dilts Wardrobe Consulting.
Nancy: Hello!
Missy: And it's sweater weather.
Nancy: Yes. For a really long time. So we may as well enjoy it.
Missy: Right. And tell us what the trends are. How can we make this a happy time?
Nancy: We can make it a very happy time, because like they say on Saturday Night Live, "It's sweater weather. Sweater weather." It'll be good. Yeah.
Missy: Okay.
Nancy: And actually, one of the really fun things that's on trend this fall is to have statement sleeves on your sweater. So they can have puffy shoulders, you can have puffy sleeve part or flares, all kinds of things and there's lots of fun things here in the shop right now. I keep coveting Missy's clothes. Look at her fantastic striped sweater because #lovemystripes. But it's so, so fun paired with denim. And I'm going more classic again with a really cozy turtleneck and plaid pants. But here, these are an array of ones with statements sleeves.
So we have the one right here in front, this blush pink, a super contemporary color with the little puffy shoulders. And then a sort of mint aquamarine blue that's really fuzzy and cozy, and you can wear this with dress pants or with jeans. And it has that… This is the super on-trend look with the wide puffy sleeve and then the deep narrow cuff.
Another black one with a fun lace flared sleeve or bell sleeve, and then Missy is showing a beautiful mustard color with the horizontal ribbing, which is super fun. And then a duster with the bell sleeve, and actually has a metallic yarn in it. And these are also a great way to be more cozy-comfy for working at home. Still very polished, but a little more soft and less structured than a jacket, so this is a really good thing that you can wear when you want to be dressed up, but comfy and warm in your home.
Missy: And you can wear them with your yoga pants.
Nancy: And you can wear them with your yoga pants, and you can wear them with jeans. You can dress them up or down, so it's a lot of fun. So have fun with the sweater weather.
Missy: All right. It's going to last for a long time, so embrace it. Just so you know, all of these sweaters are on our online store, so if you haven't checked that out, do that anytime you want. And we'll see you next week. Thanks for joining us.
Nancy: Yes, thank you. Bye-bye.
Missy: Bye.
More on cozy knits
Check out one of Missy's and my first videos together in What the Hygge?