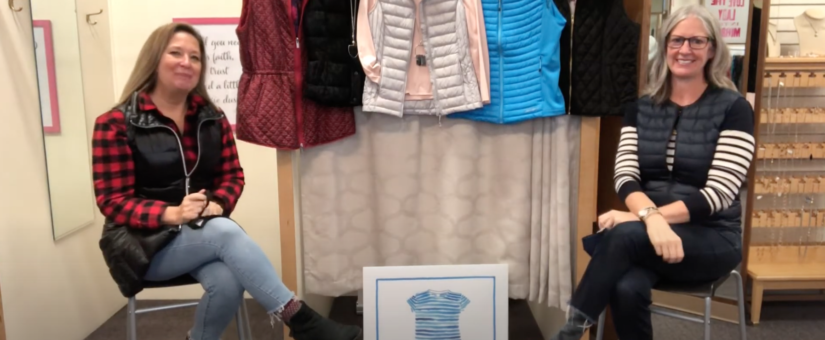 On November 4, 2020
0 Comments
#askthestylist, #ertv, consignment, consignment shopping, elite repeat st. paul, fall fashion, resale, style inspiration

Watch all Ask the Stylist videos and more on my YouTube Channel!
Ask the Stylist 7 Video Transcript
Missy: Hi, everyone. Welcome to Elite Repeat's Ask the Stylist. I'm Missy from Elite Repeat here with my friend Nancy Dilts from Nancy Dilts Wardrobe Consulting.
Nancy: Hello.
Missy: And today we are asking Nancy, is it okay to wear the puffer vest inside?
Nancy: It is definitely okay to wear the puffer vest inside. Actually you should because it extends the life of the vest a lot too. So there's lots of different kinds of puffer vests. And we think of them as wearing them in the fall and the spring. And we've lost our fall already with the horrible snow. It makes me very sad.
But lots of puffer vests are more sort of athletic looking like this blue one. And those are really great for ath-leisure. But then there are many that are more dressy in their design, and those are perfect for wearing – you can actually wear them for work instead of a jacket.
So you can see there's a very classic black one. There's this silver one with the blush tee and you add a necklace. And then that's a perfect outfit for a Zoom meeting. Wear your jammie pants on the bottom, if you want. Or you can pair it with dress pants, if you actually are out and about for a meeting.
And then there's another. This one actually has lace, a lace overlay, which is super fun. And then a striped one, which I love stripes. Mine is more casual. I'm showing a more casual approach today. But Missy, I asked … I really want …
Missy: I love this.
Nancy: I saw her with this and I was like, "I want that vest. Please give me that vest. It's fantastic."
Missy: I got it here!
Nancy: But she has one that's longer, which is even warmer and it's super, super stylish.
Missy: I love it.
Nancy: And so have fun with your puffer vests. Do wear them all winter long as an indoor piece, not just an outdoor one.
Missy: Perfect. There you have it. Look good. Feel great. Have a great week. And we'll see you next time. Thanks Nancy.
Nancy: Thank you.
More cold weather inspiration
Check out some other enduring cold weather trends in 8 Trends for Fall.