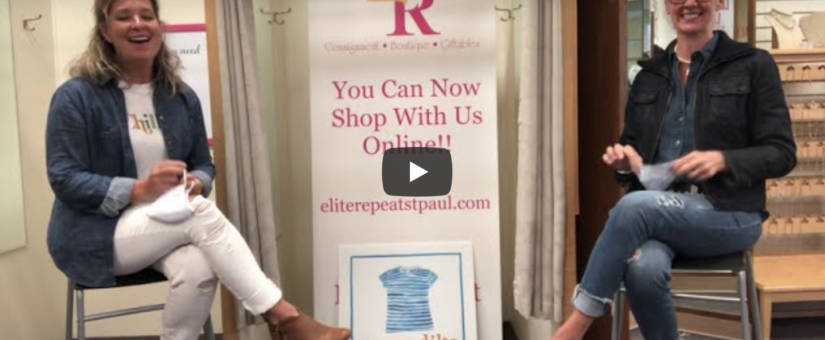 On September 21, 2020
0 Comments
#askthestylist, denim, denim on denim, elite repeat st. paul, fall transition, style inspiration, white denim
Watch all Ask the Stylist videos and more on my YouTube Channel!
Ask the Stylist 2 Video Transcript
Missy: Hi everyone, it's Missy here at Elite Repeat with my friend Nancy from Nancy Dilts Wardrobe Consulting. Welcome to Elite Repeat's Ask the Stylist. Today's question comes from Instagram and the question is, "Is it okay to wear denim on denim?"
Nancy: And the response to that question is absolutely yes, you can wear denim on denim. So, to avoid that Texas tuxedo or cowboy look, The key is pairing different washes of denim. You can do, like Missy has done it, and pair a chambray shirt with white denim jeans. Or you can also do all blues, like I'm doing wearing a dark wash denim jacket with a chambray shirt, and then a lighter wash jean. So, again, pairing those washes in different ways is what makes it feel really contemporary. And it's also really fun, and a great fall transition outfit. So, wear your denim with pride!
Missy: So, there you have it, the expert has spoken. Thank you to Ellen from Instagram for that question. Ellen, you have a $10 gift certificate here at Elite Repeat. If any of you have questions for us to ask the expert, please, please, please put them in the comments on any of our socials. And if we use your question, we'll give you a gift certificate. Thanks very much for watching us.
Nancy: Thank you.
Missy: Hope you guys have a really great week. Stay safe. See you.
Nancy: Bye-bye.
More denim style
Check out more denim outfit ideas: Boyfriend Jeans 6 Ways!