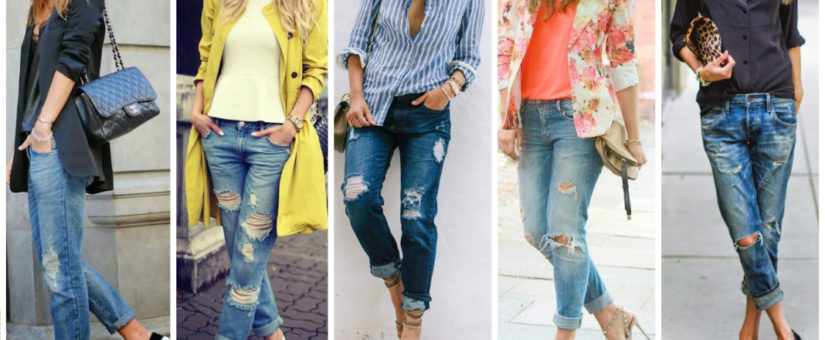 On April 23, 2019
2 Comments
functional wardrobe, personal style, spring fashion, style, style inspiration
by Danielle Giesen
Boyfriend jeans
Spring has sprung! This year I decided to tackle a new fashion trend I've been a little wary to try out – boyfriend jeans.
I love the silhouette it gives in outfits I've found on Pinterest. The contrast between the slightly slouchy boy-ish jeans and polished feminine tops appeals to me the most. I love contrast in everything! Colors, textures, aesthetics – anything goes.
Finding the right boyfriend jeans fit for my body was tricky – I'm 5'8", and finding proper fitting jeans in general has always been a struggle.
Women's "boyfriend fit" jeans aren't long enough or end up being too tight through the leg and too loose in the waist. I actually ended up trying on some men's fits at my day job and found a pair that are long enough to fold into a chunky cuff AND fit my waist properly.
1 new piece = 6 new outfits
To make these outfits, I bought only one item new – I already owned everything else I used to build the following looks.
My favorites among these options are those with stripes or a polished shoe. I agree with Nancy on the power of a good shoe to really pull an outfit together. A flat creates a more casual and relaxed look, while a heel creates a more professional and elevated look (pun intended). I love using my shoes to create versatility!
I was very excited to try out a few of the other trends depicted – metallic shoes, a pop of color, or a long polished jacket. And of course, embracing the beauty of contrasting feminine and masculine styles!
Pinterest inspo
First I looked for inspiration for incorporating the boyfriend jeans trend into my wardrobe, and Pinterest is my go-to. The compilation of outfits above shows what I wanted to accomplish.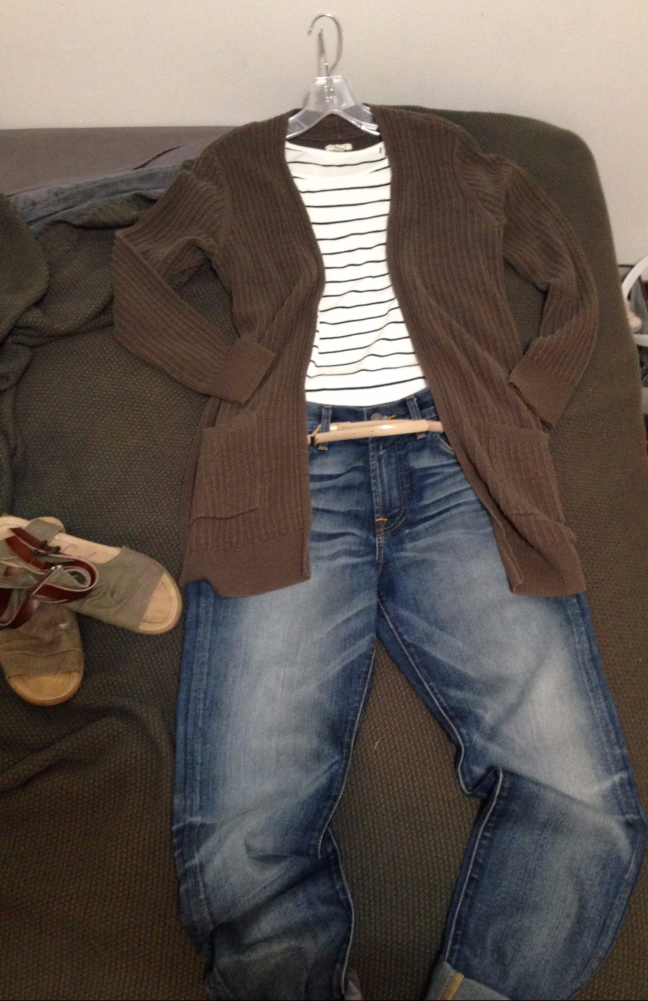 Look 1
The first look I tried was something in my comfort zone – I love olive green, neutrals, and stripes, so having these familiar friends to wear with something I was still getting used to was very comforting. I like using layering to make the outfit more casual,. The sweater is the perfect solution for my afternoon class in a chilly lab!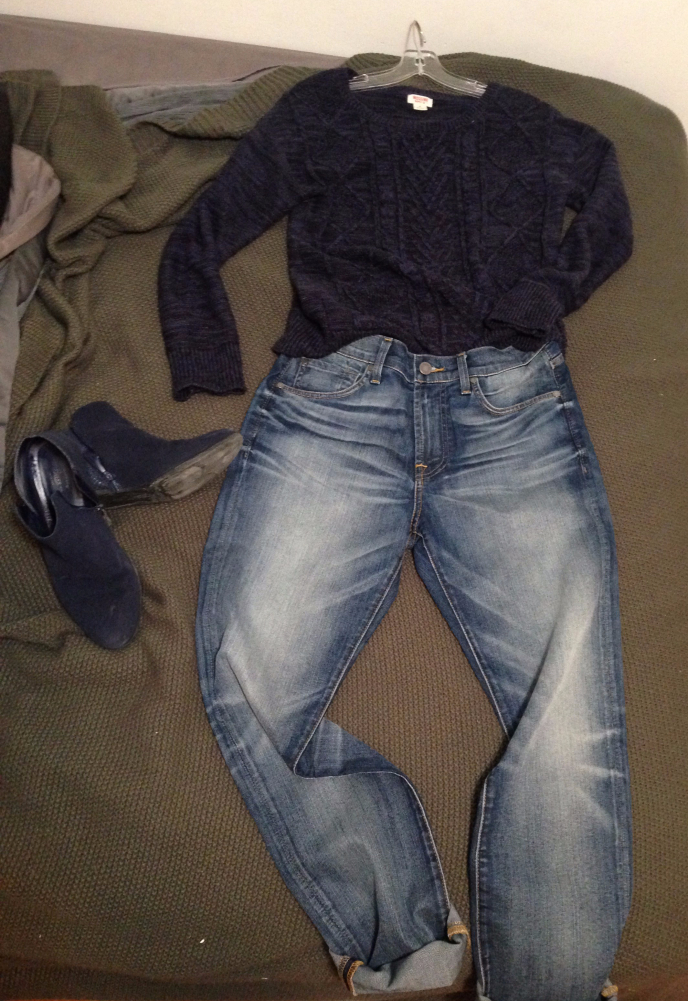 Look 2
This second look is again in my comfort zone. Like the first outfit, I matched my shoes to my sweater. With the moodiness of spring, this sweater/bootie combo is ideal to make my wintery garments look appropriate for spring and keep me comfortable, despite the weather.
When I wear this outfit, I might tuck partial-tuck the front of my lightweight sweater to add some definition at my waist.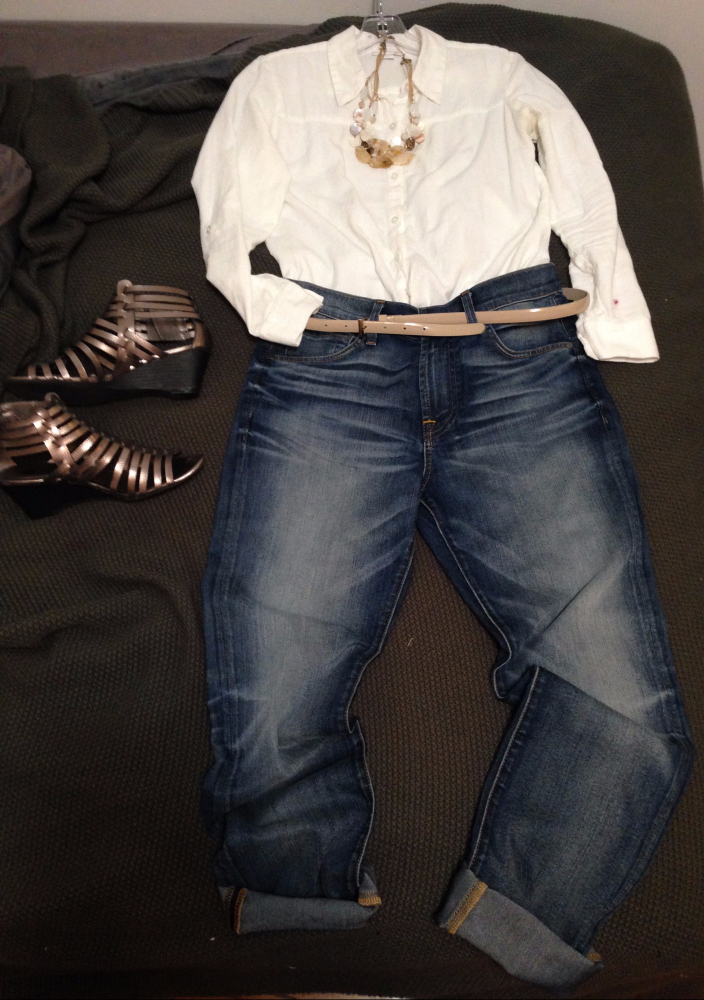 Look 3
Of course I can't have boyfriend jeans without a button up – here's a classic white. I'm also open to stripes, like in one of the inspirational images. A popular trend among my favorite fashion icons is buttoning the top only to the waistband, leaving the left or right half untucked.
This is also a perfect canvas for a pair of colorful earrings or a long patterned silk scarf as a belt.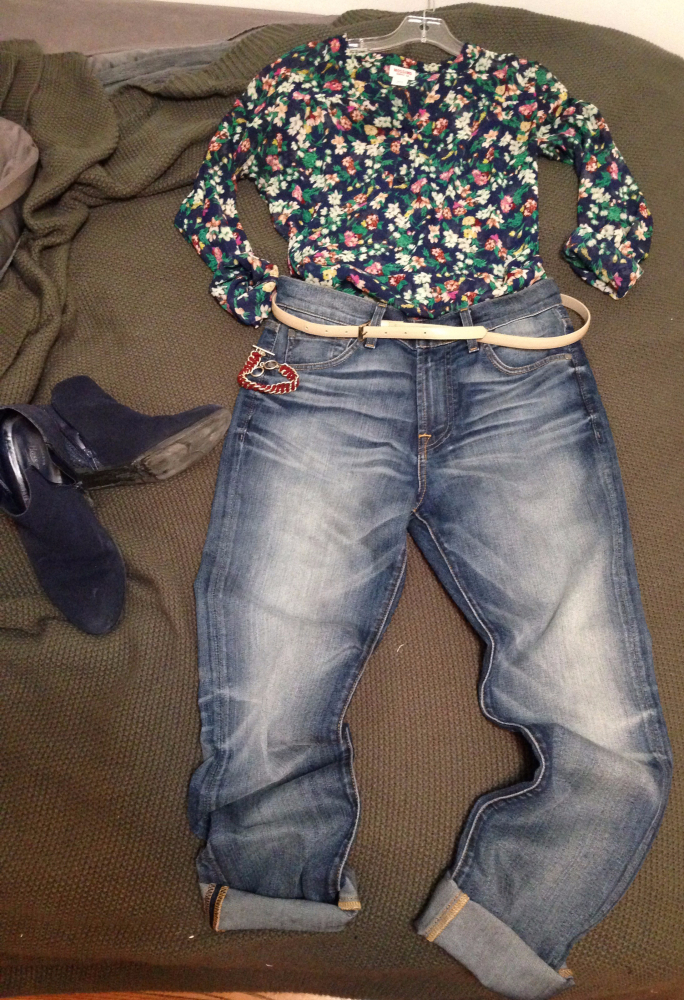 Look 4
Now this top I absolutely love. I adore how it looks with the boyfriend jeans! I got this shirt when I was in high school. It's at least 6 years old, but the colors are absolutely timeless, and it has served me very well. When I wear it, I keep the top tucked in loosely to show off the flowy fabric.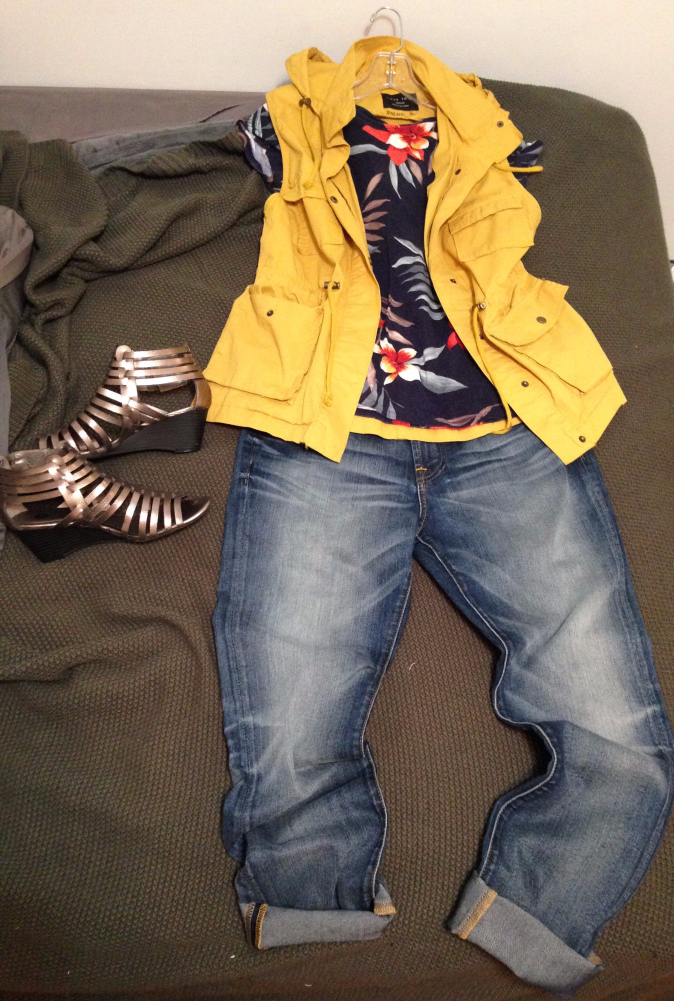 Look 5
This outfit is the one that's most out of my comfort zone. Sometimes color can be a challenge to work into my wardrobe's muted color scheme. I got this vest from my sister, and it pulls out some of the yellow in the tee.
I matched the metallic shoes to the print and the tarnished silver hardware in the vest. The wedge heel bumps up the casual look of the tee and vest.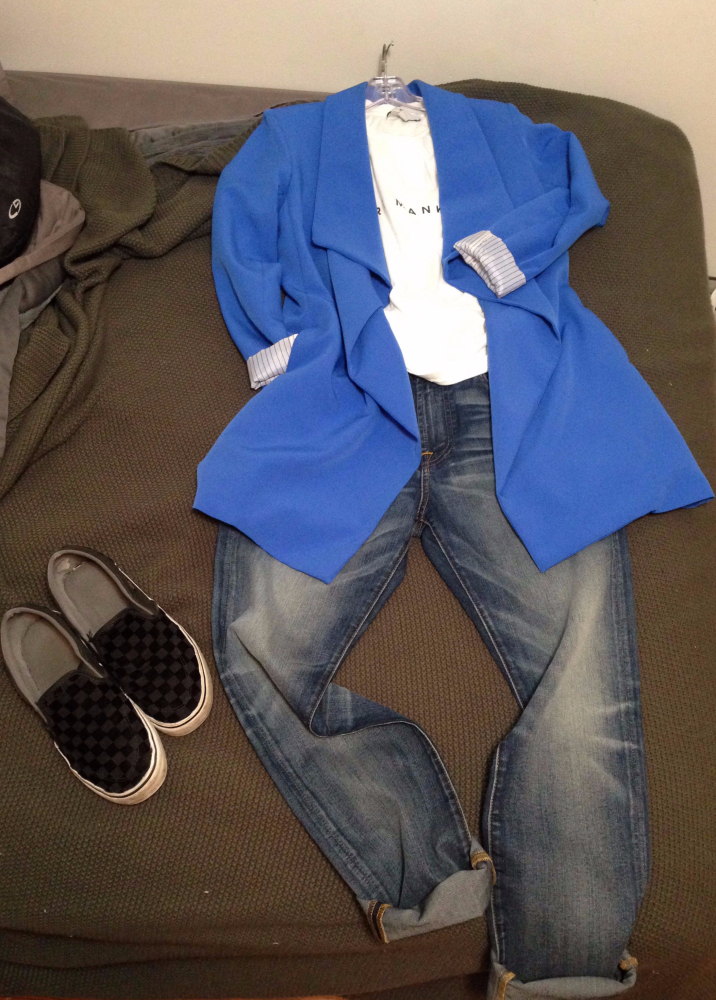 Look 6
The best for last! This jabot lapel jacket is my absolute favorite because of the brightness and color. Pairing it with a tucked-in white graphic tee and black checkered Vans settles the rest of the outfit down to make the jacket the statement piece.
I love these shoes, too, because half of the squares are black velvet instead of the regular canvas. The texture they bring is always really fun to play with, but it's easy to wear them because they're still all black – and clearly they're well loved!
Mix it up with what you already own
This spring I challenged myself to try something new to bring out a new side of my wardrobe, and I'm so glad I did! I have many new ways to wear what I already have. All I had to do was find one item – boyfriend jeans – to open up a whole new side of my closet!
Happy Spring!
Danielle is a student in Fashion Merchandising at St. Catherine University and is NDWC's Social Media Intern this semester. In the coming weeks, watch for more posts by Danielle here and posts on Facebook and Instagram. Go Danielle!