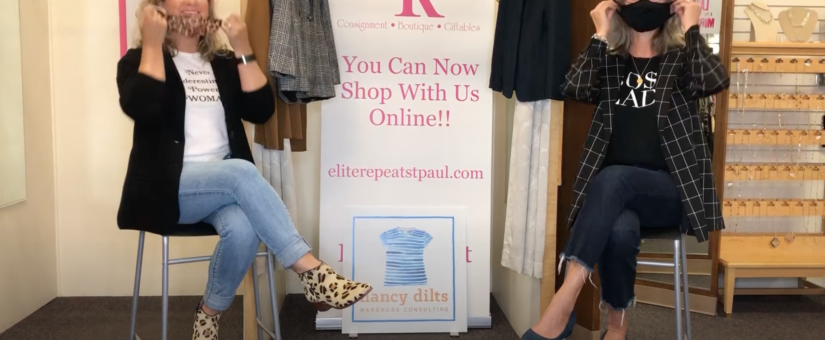 On September 23, 2020
0 Comments
#ertv, ask the stylist, confidence, early fall outfit ideas, elite repeat st. paul, fall fashion, fall transition
Watch all Ask the Stylist videos and more on my YouTube Channel!
Ask the Stylist 3 video transcript
Missy: Hi, everyone. Welcome to Elite Repeat's Ask the Stylist. I'm Missy and I'm here today with Nancy Dilts, from Nancy Dilts Wardrobe Consulting.
Nancy: Hi everybody!
Missy: And today I'm asking her, what is one fall trend that we can all embrace?
Nancy: That trend would be the blazer. It is a timeless piece. It will never go out of style. It's perfect to wear with jeans, and I tell all my clients that the blazer is actually a really great piece for fostering confidence and conveying strength and power. It can actually be a really empowering piece to wear.
And both Missy and I – it's really fun to pair them with t-shirts and jeans – and both of us chose our Girl Power shirts today to wear. And it's really awesome, because it's just a piece that really allows you to shine in all the fabulousness that you have.
And there's lots of great pieces to choose from – the long blazer is super on trend this fall in particular, and there are several here that are for sale at Elite Repeat, and it's just a lot of fun. Wear your Girl Power with pride in your blazer!
Missy: There you have it, throw on a blazer and go take on your day. Have a great day, everyone. Thanks for joining us.
Nancy: Bye bye.
The power of the blazer
To see how the blazer can instantly transform an outfit, check out From 'Meh' To 'Fab!' in a Single Step.