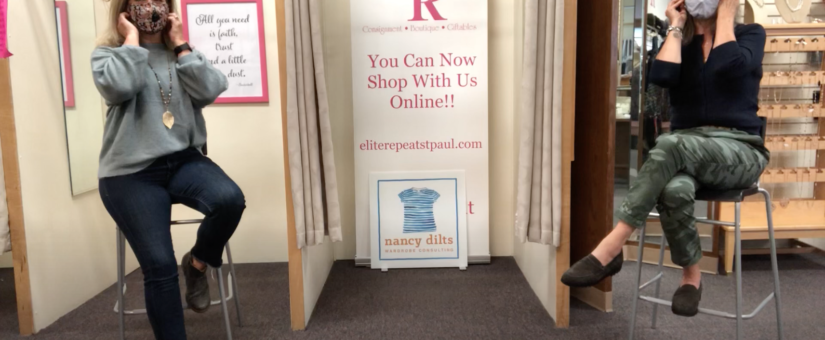 On September 25, 2020
0 Comments
#askthestylist, #ertv, elite repeat st. paul, how to video, shoes, style inspiration
Watch all Ask the Stylist videos and more on my YouTube Channel!
Ask the Stylist 4 Video Transcript
Missy: Hi, everyone. Welcome to Elite Repeat's Ask the Stylist. I'm Missy, and I'm here with my friend Nancy from Nancy Dilts Wardrobe Consulting.
Nancy: Hello.
Missy: And today's question is, can you wear a navy bootie or shoe with dark-wash denim?
Nancy: Yes. Thank you very much, Ingrid for asking that question. And yes you can because denim – blue denim – serves like a neutral. You can pretty much wear any shoe with any wash denim depending on what you want to accomplish. Some of you might've noticed that Missy's wearing two different shoes. It's not because she put them on not realizing.
Missy: I dressed myself! (Laughing)
Nancy: She dressed herself! (Laughing) No, I asked her to do this so she could show us what you can do with your shoes. On her right foot, she has her white bootie, and you can see that because it's a contrast with her jean, it really highlights that boot. And so, you can feature or make your statement boots really pop by wearing something that's contrasting with the wash.
On her other foot, she has a blue bootie, and you can see that it creates a continuity of color. And so, it's really nice for vertical flow of the outfit. So, it really depends on what you want to do, but feel free to wear whatever boot or shoe that you want with your jeans.
Missy: And does the same hold true for pants?
Nancy: No, not exactly. It really depends on the pant that you're wearing, and what you're wanting to accomplish. I am wearing camo pants today. And with them, I'm wearing an olive colored shoe because if I was wearing something other than olive or black, it would create a really sharp contrast that would actually take away from the bold print of the camo. You don't want to have too many things going on with your outfit. If you're wanting to create nice continuity of color, and also look more dressed up and polished, have your shoes match your pant. If you're wanting to go more bold, you can, not necessarily with a bold print, but you can wear a contrast or bold color. So there you have it.
Missy: All right, now we know. Thank you, Ingrid. You have a $10 gift certificate here at Elite Repeat. Stop by anytime for that. If you do have a question to ask the stylist, pop it in the comments on either Facebook or Instagram, and if we use it, you will also get a gift certificate. Thanks very much for joining us. We'll see you next week. Bye.
Nancy: Bye.
More on shoes
Check out A Spring in Your Step for Mother's Day for another video demo of how shoes can impact your outfit.