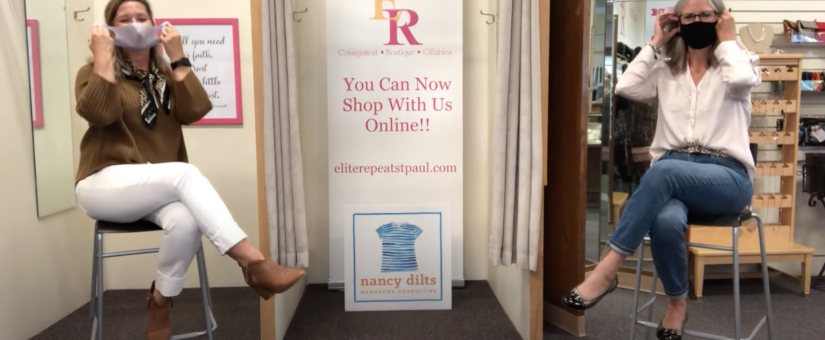 On October 2, 2020
0 Comments
#askthestylist, ask the stylist, balance of lines, dressing intentionally, elite repeat st. paul, how to video, partial tuck
Watch all Ask the Stylist videos and more on my YouTube Channel!
Ask the Stylist 5 Video Transcript
Missy: Hello, everyone. Welcome to Elite Repeat's Ask the Stylist. We are here today with Nancy Dilts from Nancy Dilts Wardrobe Consulting, and today we are tackling the partial tuck. Nancy, you know I struggle with this, so tell us everything we need to know.
Nancy: You too can do the partial tuck, Missy! Everyone can do the partial tuck. It's fantastic because it's an instant way to add intentionality and polish to your outfit, and it also can really add a lot of definition to your outfit, which looks fantastic.
Nancy: There are different ways that you can do the partial tuck. I am 5'8″, so I almost always tuck in the middle. I use it as a way to highlight a statement belt, and again, to add that definition to the outfit. Because the blouse would just add lots of fabric to the outfit if it weren't tucked in a little bit. But it creates a nice soft line. If you are on the shorter side, or are more petite like Missy, I often recommend that you do the partial tuck at a 45 degree angle. You can use your first belt loop as a guide. That just creates a better balance of lines for shorter people. And it also looks fantastic.
Missy: All right. So, my friend Roseanne has asked, "Can you do a partial tuck with leggings and jeggings?"
Nancy: Yes, you can, but with a caveat. So, often leggings and jeggings do not have any hardware, meaning no buttons and zippers. If you're tucking right in the middle, you're kind of highlighting nothing there, so that can look a little off. So if you want to do one with your leggings, or jeggings, to add definition, do it either at that 45 degree angle, or all the way over on the side, and then you get a nice soft diagonal line across the front, which looks fantastic.
Missy: Okay. There we have it. Now we know everything we need to about the partial tuck. Go ahead and do it. Sweaters, blouses, pants, jeans and jeggings.
Nancy: Absolutely. Yep.
Missy: Thanks, Nancy. Good to see you. Thanks for joining us. Join us again next week. If you have a question to ask Nancy, drop it in the comments in Facebook or Instagram. If we use your question, we'll give you a $10 gift certificate. Have a great week, everyone. Bye.
Nancy: Bye-bye.
More on dressing intentionally
The partial tuck is an act of intention in dressing. Such a small thing, but such a large impact! Read more about the power of intention in the post Dressing Intentionally.