On April 5, 2017
0 Comments
French fashion, nu look minneapolis, pattern mixing, silk scarves, spring fashion, third piece rule
Here is a trick I share with all my clients because it is so stinkin' easy to remember and to do. It's all over the fashion blogs, and it is the primary reason stylish people look so, well, stylish.
Are you ready?
The third piece rule
Add a third piece to what you are wearing. That's it.
You have to put on a top (1) and a bottom (2) for coverage. Add a distinctive belt, scarf, jacket, colorful or interesting sweater, or statement necklace (3) – instant ensemble! You can even feel daring and add a 4th and 5th element, like a hat, bracelet, or fun shoes to further express your personal style.
Meh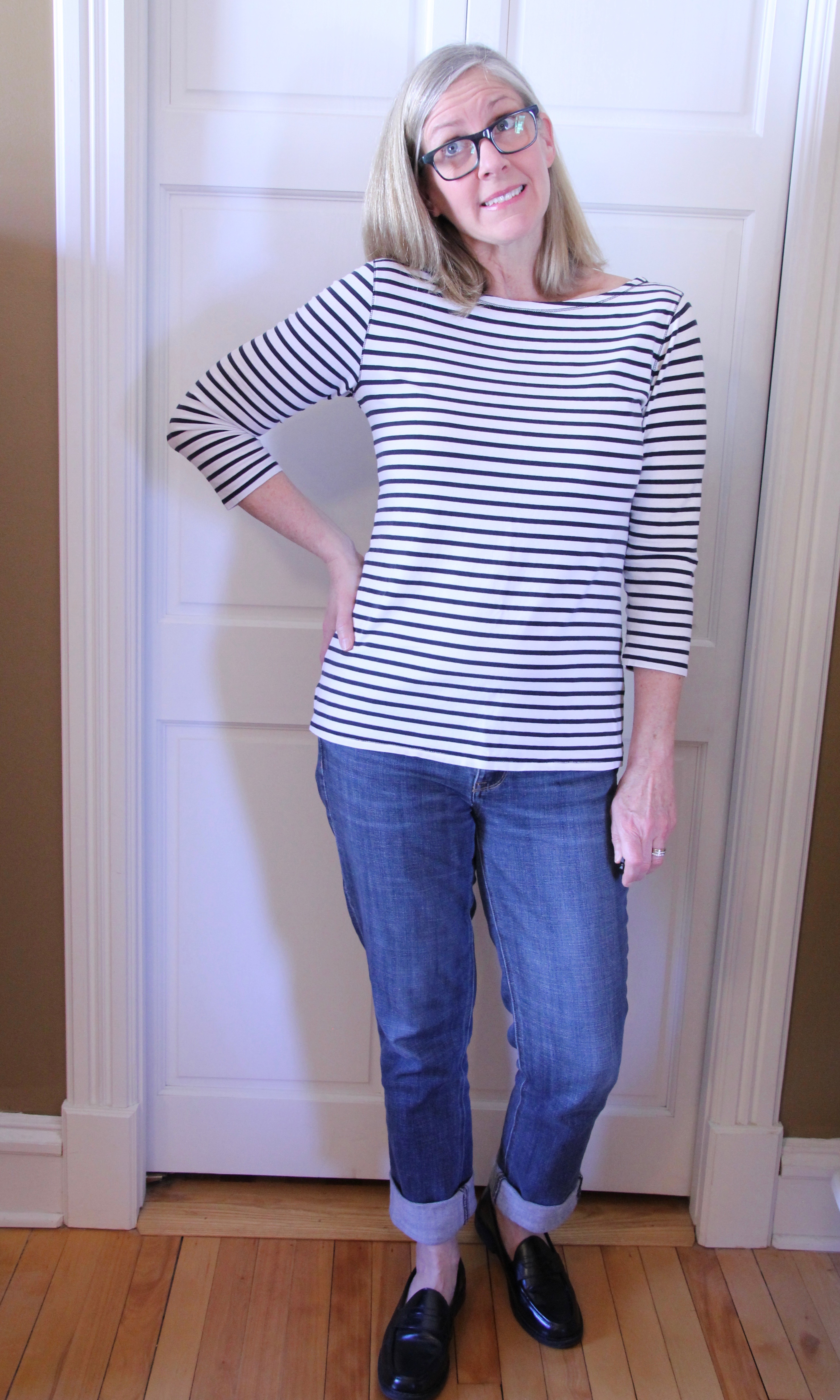 My stripey Breton shirt is kind of fun and is a favorite. I LOVE stripes. See my logo up there? I really love stripes. But even with the fun stripes, this outfit is kind of blah. With the high boatneck cut and long length, the shirt looks like a sea of stripes, which throws off the balance of visual lines for the outfit. (Another thing I talk about with my clients all. the. time.)
Baby bear steps
Lookey there. I added my third piece, a chunky jeans belt, and partial-tucked my shirt to highlight it. The sea of stripes is now balanced by the belt, and the partial tuck adds definition to the overall lines of the outfit, while maintaining an easy style with softer lines than a shirt tucked in completely.
Mama bear
Even though the belt acts as a third piece, let's take it a step further. For me, I consider the partial-tuck and belt part of the basic ensemble, since I almost always use them when I wear jeans (and often other pants) to create balanced lines for my body.
Look at what the polka-dot scarf paired with the stripes does for the outfit! This is still a really simple, casual ensemble – great for knocking around on a gorgeous spring day. Adding the scarf shows I thought about my outfit. It also creates more balance by adding vertical flow to the visual lines. And pattern mixing shows even more intentionality and polish.
Papa bear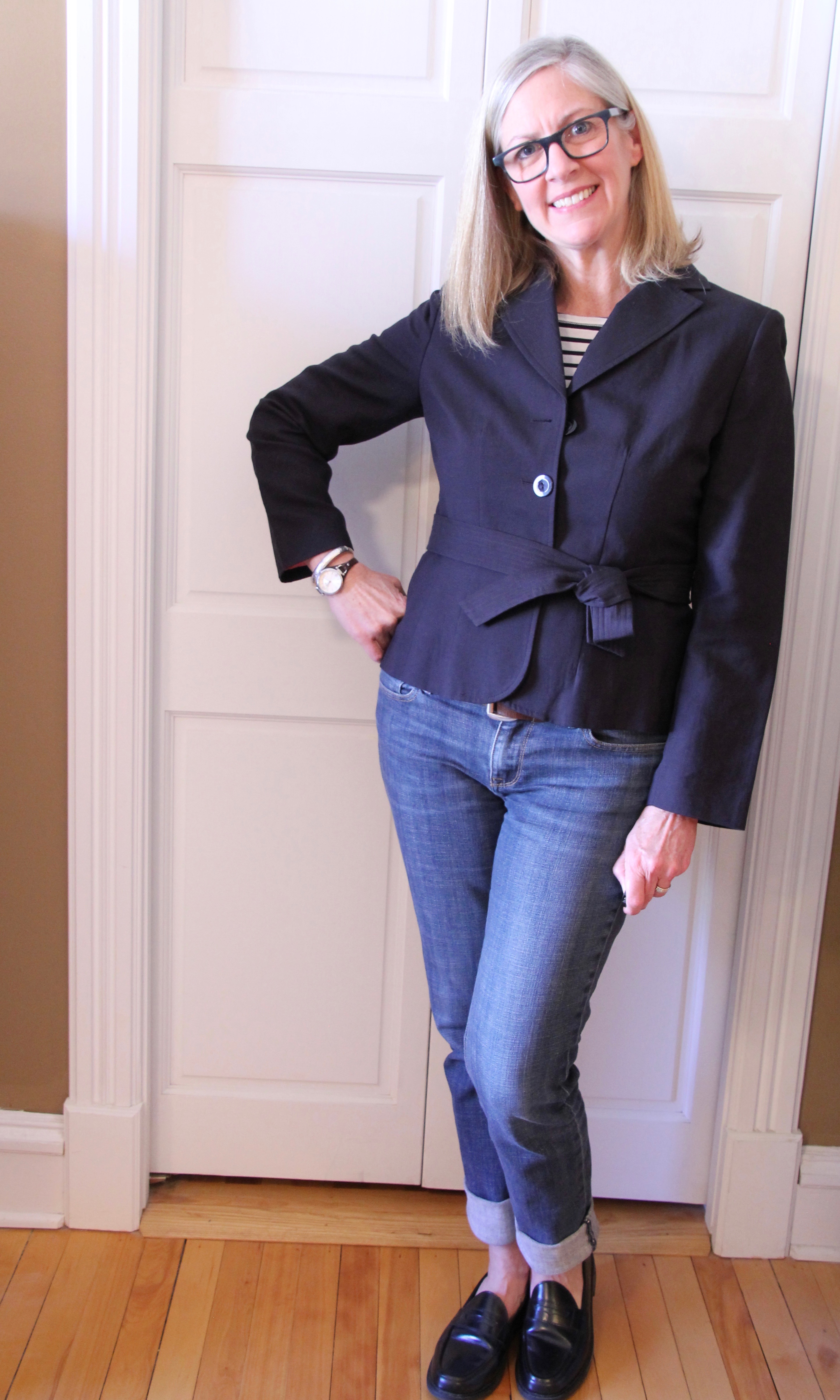 The structure of a jacket instantly adds polish to any outfit. A jacket particularly ramps up style when paired with jeans. It can be a blazer, military-style, denim, knit, leather, you name it. Jackets should fit well in the shoulders, provide definition, and full-length sleeves should hit at the base of thumb.
I'm going for a French-inspired look with my Breton stripes peeking out from a belted navy blazer. I did tuck the shirt in fully to maintain the clean lines of the jacket.
I love this blazer. It fits perfectly and will be so much fun to wear this spring.
Goldilocks!

To fully embrace the French look, you need a silk scarf. This one is Emilio Pucci, and I really love the vibrancy of the blue geometrical design. See how it pulls the whole outfit together with a pop of color and polish? Casual, but intentional. And this outfit makes me feel great. That's what it's all about.
Outfit details:
Breton-stripe shirt – JJill – old (I will be so sad when it dies – it's been a great staple); jeans – JCrew – old; belt – SO old, but another great staple
Blazer – Sharagano Suits; polka-dot scarf – JCrew; silk scarf – Emilio Pucci; loafers – Cole Haan. All are from Nu Look Consignment in Minneapolis! I had great success during their winter clearance sale a couple of months back.