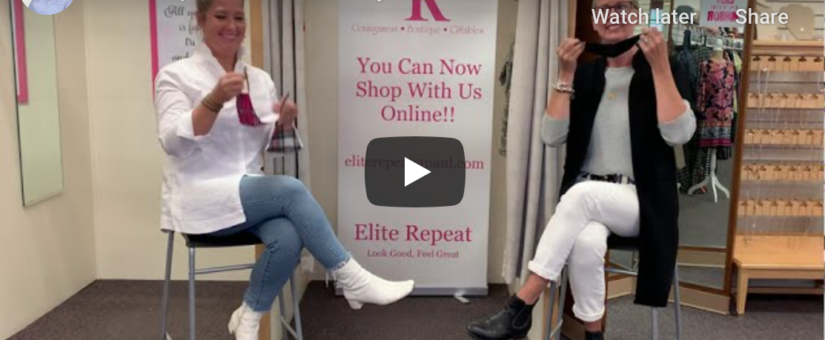 On September 14, 2020
2 Comments
#askthestylist, #ertv, elite repeat st. paul, fall fashion, how to video, style inspiration, white denim, whiteafterlaborday
Ask the Stylist Week 1
Missy at Elite Repeat Consignment Boutique in St. Paul and I have begun a weekly video series, Elite Repeat's Ask the Stylist, where I answer style questions and more. So. Much. Fun.
We will be answering YOUR style questions! Leave your questions in the comments here or on the socials, and if your question is selected, you will receive a $10 gift card to Elite Repeat. Woot!
Head over to NDWC's YouTube Channel for more Ask the Stylist and other video fun!
And for more ideas on wearing white all year, check out my post, The Summer Look That Keeps on Giving.
Video transcript
Missy:
Morning, everyone. It's Missy here at Elite Repeat, and I am with my friend Nancy Dilts from Nancy Dilts Wardrobe Consulting.
Nancy:
Hey, everybody!
Missy:
And we have decided to do a weekly show on burning questions that we all have. And we're calling it Elite Repeat's Ask The Stylist. So, today's question, because it's the end of summer, Labor Day is this weekend. We want to know, is it okay to wear white after Labor Day?
Nancy:
And the answer to that question is absolutely yes, you can wear white all year round. And it all just depends on how you wear it. So today I'm wearing some white denim, and that is something that you can wear all throughout year, and choose different things to pair it with. I'm wearing it with a blend of blacks and grays. You can also choose other neutrals. You can go into fall with the utility jacket, like this camo one. And then as it gets colder, add a really nice cozy sweater, and that can be in neutrals, or you can do brights. Missy has a really fun outfit with a classic white shirt, which you can wear all the time, her fun white boots, and then she's adding a pop of brightness as it gets chillier with a beautiful hot pink poncho.
Nancy:
So yes, absolutely do wear white all throughout the year. It's so much fun.
Missy:
So there you have it. The expert has spoken, and now we know. If you have questions, please drop them in the comments, and we will address them as the weeks come. Hope we all have a very safe and happy and healthy Labor Day weekend, and we'll see you next week. Thanks.
Nancy:
Thanks for having me, Missy. Bye-bye!