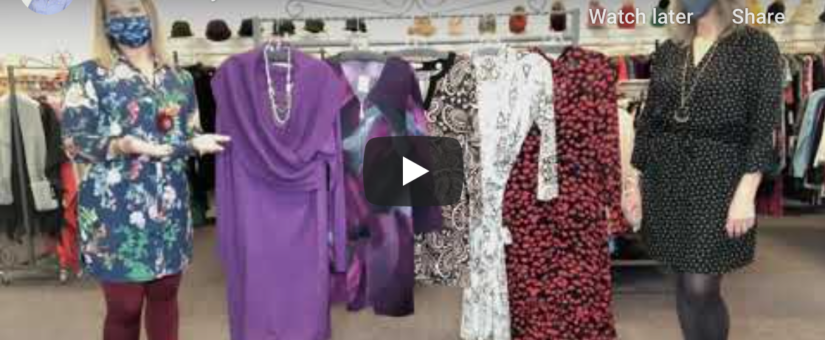 On December 14, 2020
0 Comments
#askthestylist, #ertv, consignment shopping, elite repeat st. paul, intentional dressing, resale
Watch all Ask the Stylist videos and more on my YouTube Channel!
Ask the Stylist 10 – the Winter Housedress
Transcript for the hearing impaired
Missy: Hi everyone, welcome to Elite Repeat's Ask the Stylist. I'm Missy, and I'm here with my good friend Nancy from Nancy Dilts Wardrobe Consulting.
Nancy: Hi everybody!
Missy: So as you know, Nancy is the expert, and I'm the clueless wonder. And we were talking the other day, and she mentioned the housedress, and I had no clue what she was talking about. So she's here to shed some light on the housedress for us.
Nancy: Yes. I love it when Missy looks at me when I say something, and she's just like…blink, blink… The housedress. We think of the housedress as either being Mrs. Roper from Three's Company, or the 50s thing that you zip up, but no. Super on trend now.
It's basically a dress that is more fluid, a little bit more easy, comfy for wearing at home all day but still very polished and intentional, which is something we super, super duper need right now because it's a hard time. So both Missy and I are wearing one with an elastic waist. We didn't plan it, we just seem to dress similarly sometimes! But super easy, super comfy.
Nancy: This one is very on trend right now with the longer length, the beautiful print. I love it, love it, but it's not my size. And then this is a wrap dress, which is a cut that is so classic and looks amazing on every single body type, and so comfy because it's just soft, fluid, wrapping around.
Show us what you have, Missy. That is an Athleta dress, that is just gorgeous. It's a sweater dress. You think of it as more casual, but you can dress it up for work.
Missy: Sure.
Nancy: And that neckline is just gorgeous for a Zoom meeting. It looks really fantastic.
Missy: All right!
Nancy: And then this one right here, it has a zipper neckline which is super fun, and Missy's showing this.
Missy: Super fun sleeves.
Nancy: Yes, the bell sleeves! Very cute. And it's also A-line, so again, comfy. And then we have this one, this one's a little bit thicker, so warmer. A little more casual, but it has a really fun print. You can pair it with leggings, and again, feel great for the day at home.
Missy: All right, so it is okay to be wearing my fleece-lined leggings with my house dress?
Nancy: Absolutely!
Missy: Yay! All right, there we have it. Find yourself a housedress, put it on, look good, feel great. Thanks so much for joining us, we'll look forward to seeing you next week. Bye.
More housedress inspo
Check out a few more ideas in this post!