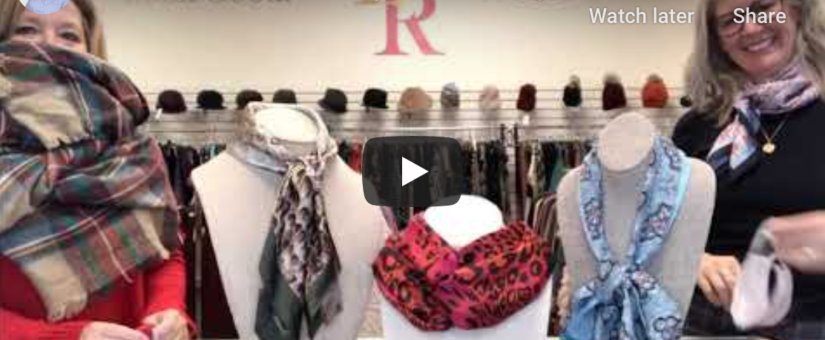 On December 2, 2020
0 Comments
#askthestylist, #ertv, accessorize, elite repeat st. paul, style inspiration
Watch all Ask the Stylist videos and more on my YouTube Channel!
Ask the Stylist 9 – Upping Your Zoom Game Part 2
Transcript
Missy: Hi, everyone. Welcome to Elite Repeat's Ask the Stylist. I'm Missy here with my friend Nancy Dilts from Nancy Dilts Wardrobe Consulting.
Nancy: Hi, everybody!
Missy: And we are talking about upping your Zoom game with accessories. Today's topic is scarves.
Nancy: Hi, Missy. What you got going on there, girl?
Missy: Does this work?
Nancy: So not. We're going to be talking about scarves, and scarves are a perfect way, but the blanket scarf, cozy as it is, unfortunately, is not the best way to up your Zoom game.
Missy: Okay…okay.
Nancy: Little too much bulk right up at the face.
Missy: Perfect. So, what should we do?
Nancy: What should we do? Silk scarves are the perfect way to up your game for professionalizing your outfit. It adds instant polish, and it does give a really nice visual interest. Oh, so much better, Missy.
Missy: Better?
Nancy: Look at that. Yep, fun blending of patterns there. It draws attention to your face, and it just looks super intentional and polished. So we've done a few different ties right here just to show they're actually simpler than they seem.
Missy: Okay.
Nancy: It's just a really great way to add a piece to your outfit.
Missy: Awesome, and the really cool thing is Nancy has done a tutorial on how to tie scarves like this so that we can add some zoom to our zam or zam to our zoom!
Nancy: Exactly.
Missy: Or whatever it is that we're trying to do.
Nancy: Make it zazzy!
Missy: Check out the link below, and thanks for joining us. Have a great week.
Nancy: Bye-bye.
Missy: Bye.
Scarf tutorial
Learn how to tie scarves in this video tutorial: 5 Silk Scarf Ties for Zoom.