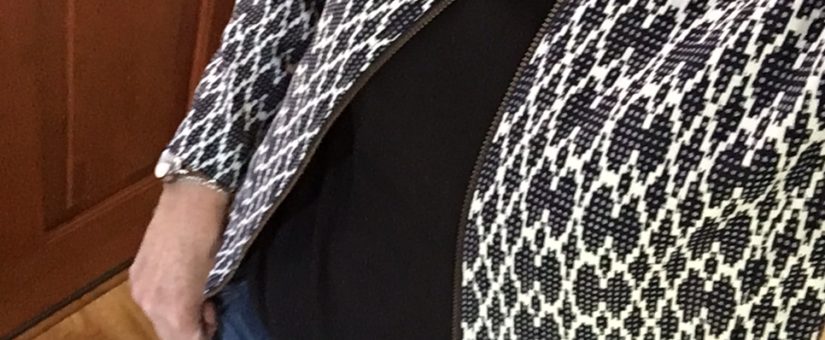 On October 31, 2017
3 Comments
#outthedoor, fall 2017 trends, intentional dressing, jeans outfits, outfit ideas, signature style, stuck in a rut
#outthedoor
Stuck in a rut? A couple of months ago I started a weekly series on my Facebook page called Out the Door – check it out. (And like my page while you're there, if you haven't already!) A sampling follows.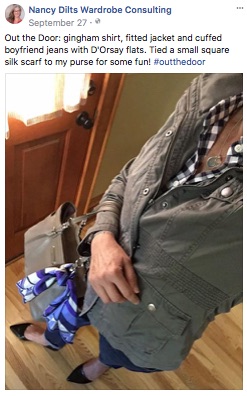 It's a fun way to show folks what I'm wearing for outfit inspiration, how I put into practice what I talk about with my clients, and that you really can find fun things new-to-you at consignment stores (almost everything I wear is new-to-me).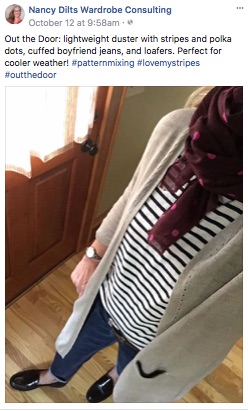 Unexpectedly, it has also become a good exercise for me, because I have visual documentation of my patterns of dressing. Taking pictures of what I put on – or choosing not to – tells me a lot about my personal style, what outfits help me feel great, and ones that don't really do that for me. It's a great practice, and one I'm going to incorporate into my A Year of Style service to help clients hone their personal style and dress intentionally.
Signature style
Something that has become really clear in Out the Door – I already knew this, but hadn't thought about it in a broader way – is that wearing polished jeans outfits is my signature style. I wear jeans A LOT. I'm lucky that way – when you do wardrobe consulting, you can wear what you want.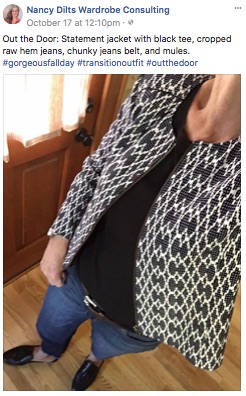 And what I want to wear is jeans. When I do wardrobe consults and personal shopping sessions, I'm moving constantly, managing clothing for my clients, sometimes down on the floor looking at hem length or shoe fit, and generally active for the entire session. So it's important that I'm comfortable and can move quickly and with ease. No high heels, no super-narrow skirts, no fussy pieces that will get in the way.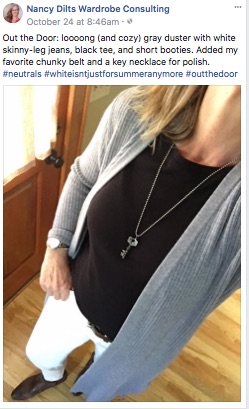 I do mix it up with collared shirts, tees, jackets, and sweaters. And I change out scarves, belts, jewelry, and shoes. That said, wearing the same outfit formula most days can feel at times more like being stuck in a rut than a signature style. Case in point – through taking photos for Out the Door, I realized just how much mileage my black tee got during the transition weather this fall!
I don't intend to leave jeans outfits behind by any means – they indeed are my signature style. But let's mix it up a little, shall we?
No more rut
This is what dressing intentionally is all about. Not being consumed by what you are wearing, but actually putting thought into it, so that your clothing reflects who you are and works for you rather than against you.
Huh? Yes, what you are wearing affects how you feel. Dressing with intention helps you to feel better, more confident, and ready to share your awesome self with the world.
So I went rummaging in my closet to intentionally create some non-jeans outfit ideas for the Fall. Here's what I came up with: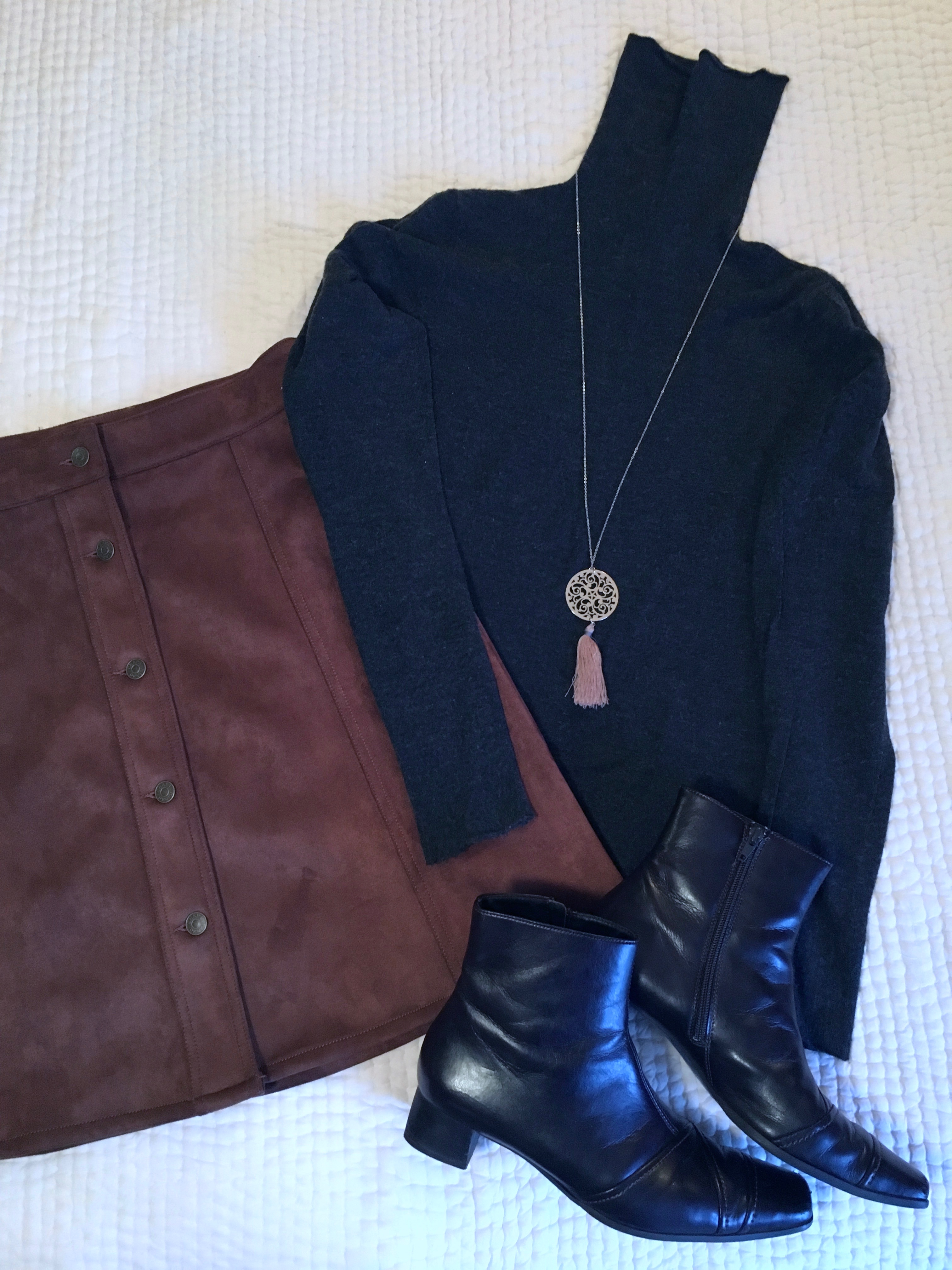 I love this faux-suede skirt – it's super comfortable, has an A-line cut so I can move easily, and will be fun with a fine-gauge fitted turtleneck and other sweaters. I mixed browns and charcoal gray here for a contemporary look.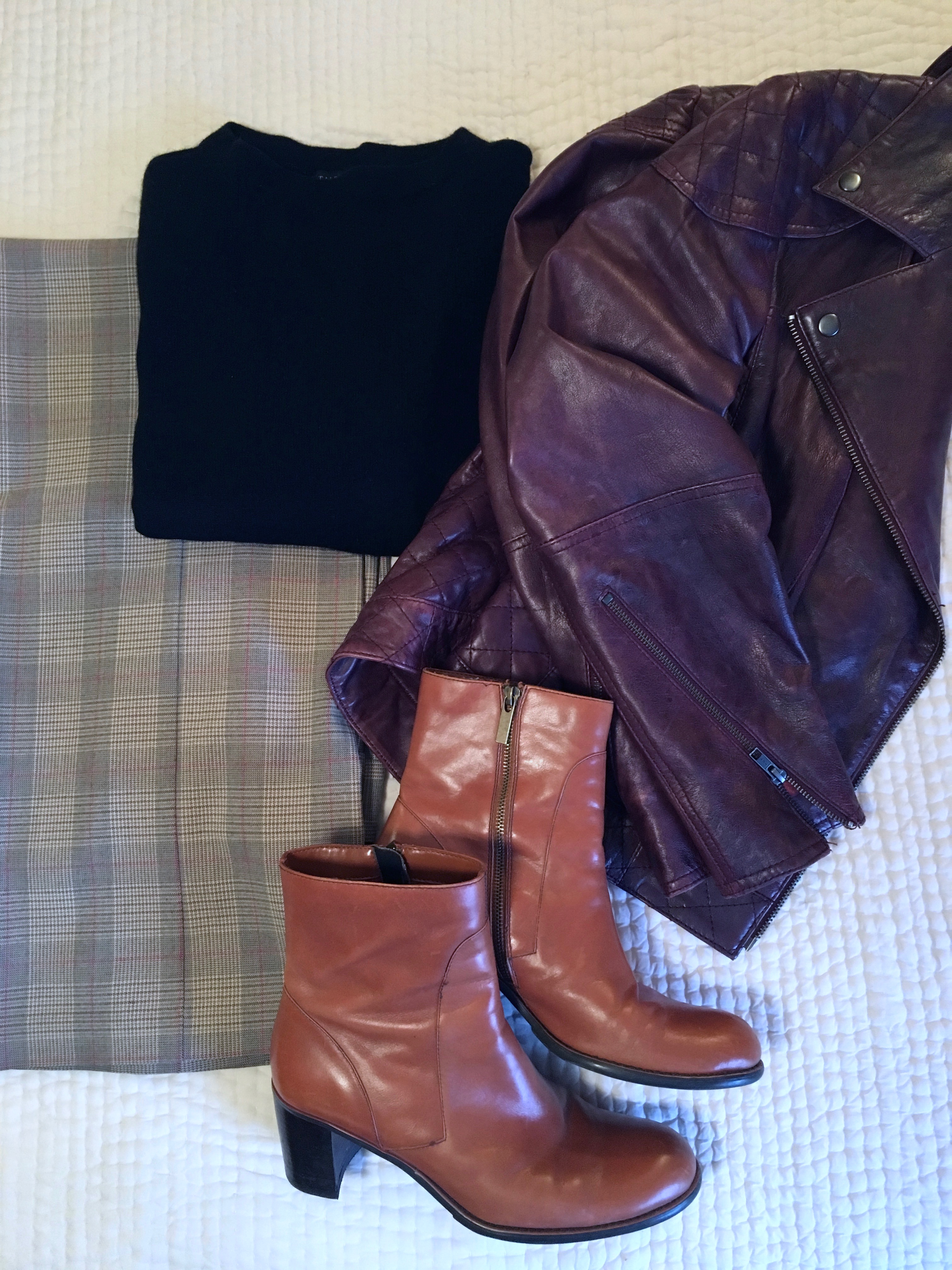 Plaid is super on trend this Fall. And it's a timeless classic, so you can't go wrong. I paired these dress pants with a black cashmere sweater and oxblood leather jacket for a little edge. The caramel boots are comfortable, even with the higher heel. I am toying with getting the pants hemmed to go with lower heels so that I wear them more often – I like the idea of wearing them with loafers and low-heeled boots…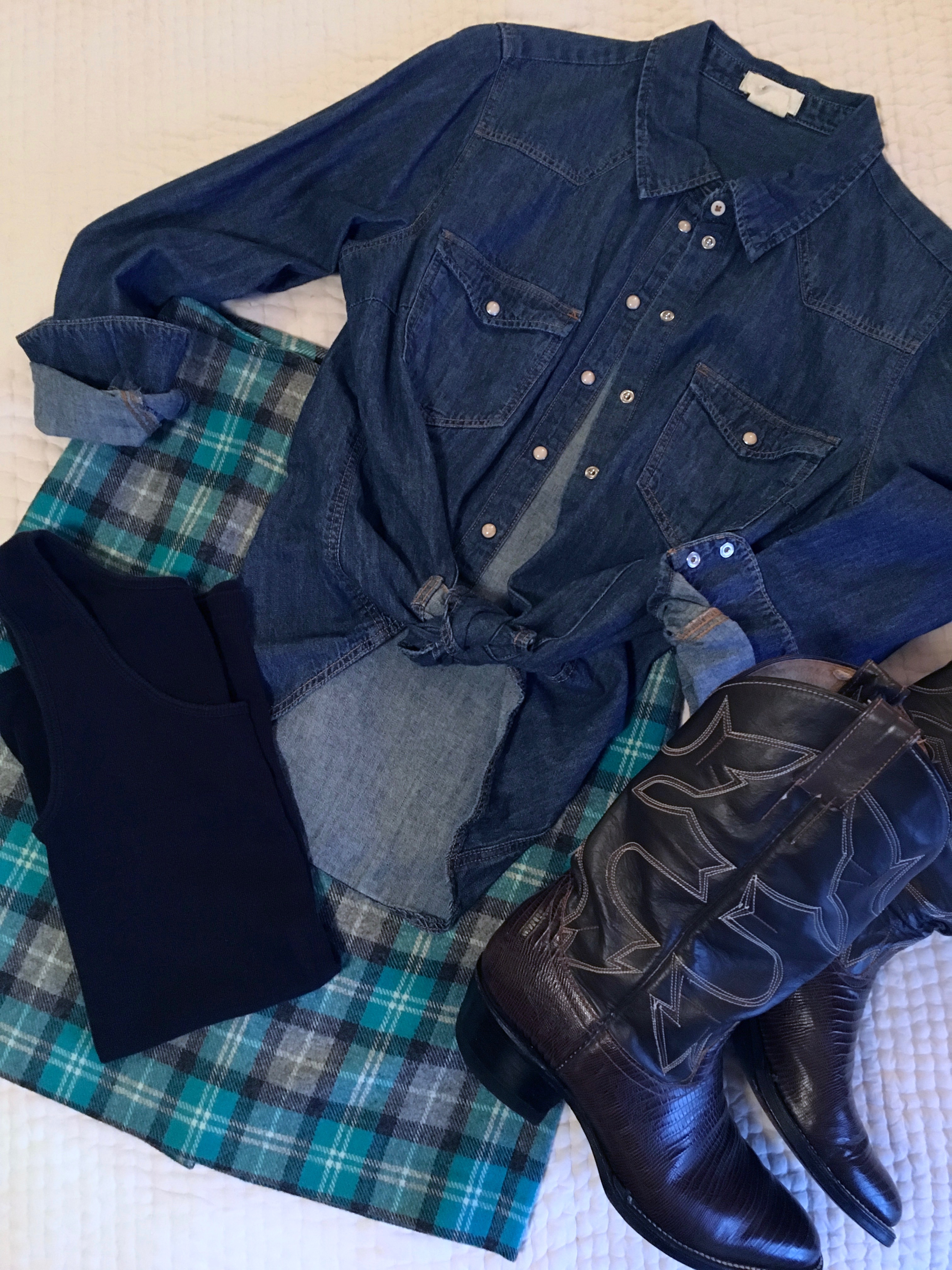 Americana
Americana (think western-influenced clothing) is on trend this Fall as well, so I paired a denim shirt and cowboy boots with a plaid skirt for a little mash-up. It's good to have a little fun, and my cowboy boots make me feel bad-ass!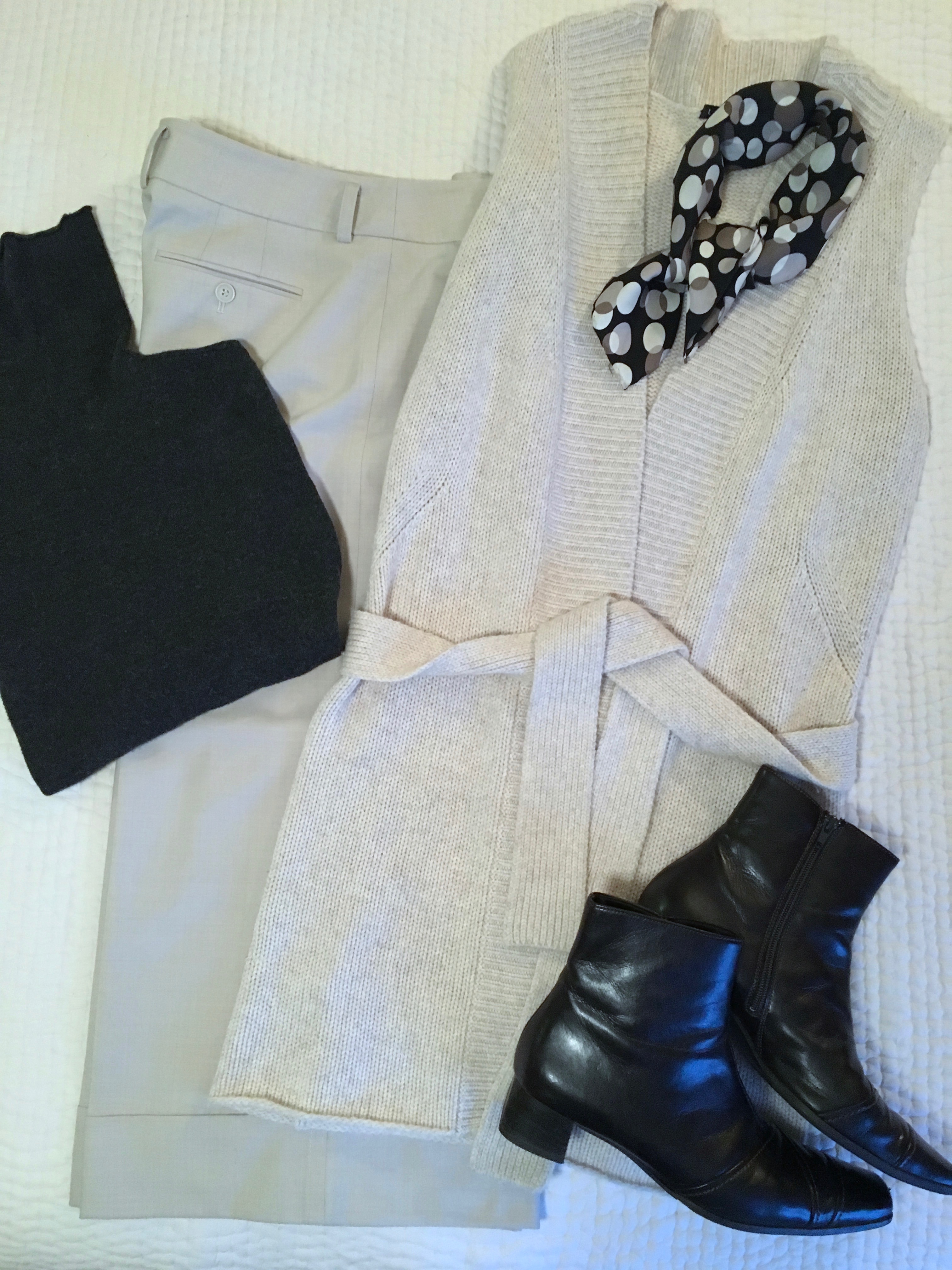 Mixing neutrals is contemporary and elegant. Here I paired an oatmeal long belted sweater vest and culottes with the charcoal merino turtleneck and the brown booties. I added a geometric patterned silk scarf for polish.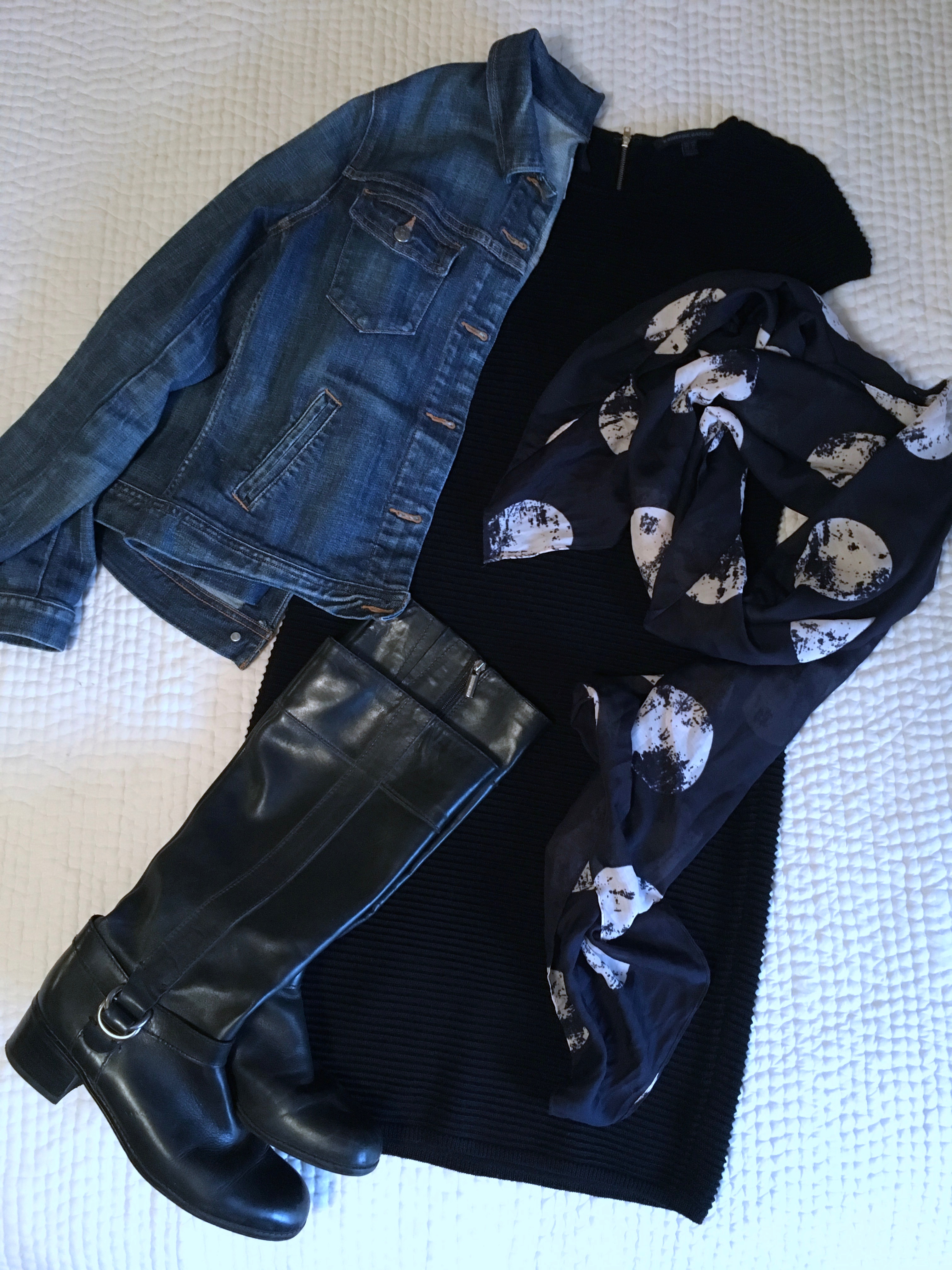 I love wearing navy and black together – like this knee-length knit black dress and navy bold-print scarf with a denim jacket. However, I hardly wore my tall black boots last fall and winter; instead I found myself choosing booties. I'm looking forward to bringing these classic boots back into rotation this year.
What you are wearing affects how you feel. Dressing with intention helps you to feel better, more confident, and ready to share your awesome self with the world.
What's your fancy?
How will you stay out of a rut this season? What outfit ideas resonate with you most? Share your thoughts and other outfit ideas (pics too!) in the comments. We can inspire each other!