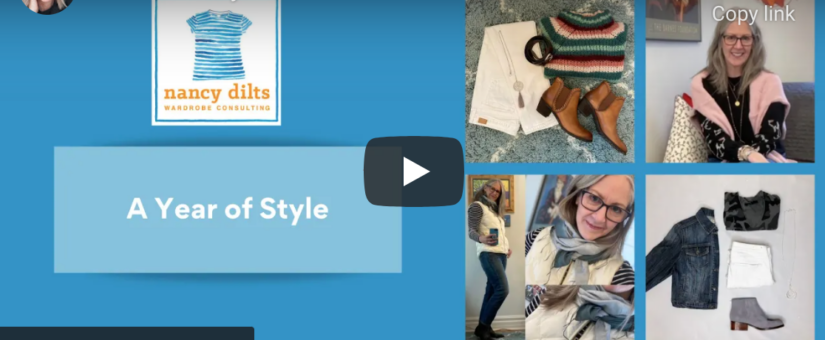 On December 14, 2021
0 Comments
a year of style, confidence, enclothed cognition, intentional dressing, personal style, wardrobe consulting
A Year of Style is my signature style package because it truly is the most wonderful and gratifying experience for my clients and me! We have the gift of time in a whole year of working together to make your wardrobe – and YOU – shine. Let's take a look at what it's all about.
2021 was…a year
It's hard to believe the end of 2021 is approaching so fast! I'm not sure where the time has gone – COVID has a way of stretching and contracting time simultaneously, doesn't it?
Sometimes the past two years seem like an eternity, and others it's hard to believe it's been that long. A lot of my clients are heading back to work in the office and are horrified by their wardrobes now. And some will continue to work from home and are also horrified by their wardrobes now. Notice a theme?
We have entered a new chapter of work life, and what we wear is shifting as well. How do we feel good in all the changes?
My why
The most important part of what I do is helping people feel fantastic in their own skin and clothes. It's what it's all about for me – I spent so many years feeling SO unhappy with my body, thinking that it was ugly. I used clothes as a way to hide (even disappear sometimes), and lived in a cycle of shame. It wasn't a good place to be.
I finally broke free of that cycle, and that's why I began Nancy Dilts Wardrobe Consulting. I wanted to help others to find joy in their clothes and in showing their awesome selves to the world! I am so grateful to have been able to help so many people this past year. And I'd be delighted to share the love with even more of you to help you look and FEEL your best in 2022.
A Year of Style – now two formats!
A Year of Style is so much fun, I'm expanding it. Yep – you heard that right.
Beginning in January 2022, my signature package will be available in two formats: A Year of Style  and A Year of Style – REFRAME.
A Year of Style will continue to offer the same go-deep experience where we define your personal style, set intentions about how you'd like to dress for YOUR life, revamp your wardrobe to be everything you want it to be, and have a whole lot of fun along the way in an ongoing, supportive relationship.
A Year of Style – REFRAME will be all that and MORE. AYOS – REFRAME will also include: sessions with a trusted hair stylist and a trusted makeup specialist to give you a fresh, new look; clean, environmentally friendly makeup to get you started; and BEST OF ALL, an introductory and one full session with a trusted life coach to help you re-connect with your awesome authentic self, inside and out.
In either format, feel prepared to live your life and be who you are without the daily stress of figuring out what to wear. Feel intentional and confident about how you show yourself to the world. And know how to do that without feeling overwhelmed.
Curious and want to know more? I have limited space available for A Year of Style and AYOS – REFRAME in 2022, so get in touch with me soon! Reach out and let's chat. I can't wait to talk with you.