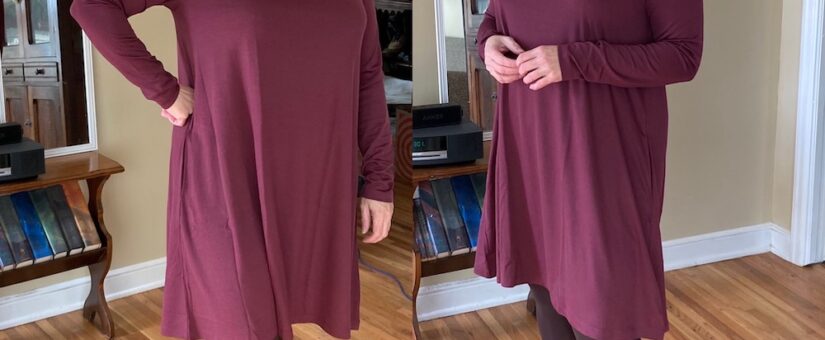 On March 24, 2021
4 Comments
#100daydresschallenge, #rowenaswingdress, #wooland, functional wardrobe, personal style, style consult, sustainabilty, sustainable consumerism, sustainable wardrobe, wardrobe consulting, wool&

Client spotlight
This is my client Dee Ann. Dee Ann is awesome. We've worked together several times over the last few years, and last month Dee Ann emailed to tell me that she was going to take the Wooland 100 Day Challenge. First, a little history.
Dee Ann is an aspiring minimalist. She doesn't want to own a lot of clothing, and she is committed to buying as sustainably as possible. When we work together, her task for me is to create as many outfits as possible with few pieces. She's a gold-star client when it comes to building a sustainable wardrobe!

Wooland 100 Day Dress Challenge
What the Wooland Challenge is all about, in their words
We now invite you to do a 100-Day Challenge, or at least attempt one. We're convinced you could benefit from simplifying your morning routine, making "what to wear" the easiest question of your day. Here are some reasons you should give it a try:

Spend less time and money doing laundry and dry cleaning (duh!).

Learn how to get more wears out of a garment (e.g. when you spill on your dress, you'll immediately take action to clean it since you're wearing it again tomorrow!).

Recognize what you need and don't need in your wardrobe.

Realize that your clothing isn't what defines you (have you heard of the spotlight effect? It's a phenomenon in which people tend to believe they are being noticed more than they really are.)

Have more money to spend on experiences with the people that make you the happiest.

Reduce your impact on the planet when you realize you don't need a closet packed full of clothing.

If you complete the challenge, we'll gift you $100 toward your next wool& dress.

My take
It's fantastic if a garment can hold up to 100 wears or more. The longer a piece lasts, the more sustainable it is. It is the ultimate in the capsule wardrobe philosophy. I'm also not sure I would enjoy wearing the same piece for 100 days. Clothing is an important part of my self-expression, and I get a lot of enjoyment out of creating new outfit looks. But that is me – not everyone is as geeked out about style as I am!
Dee Ann wants to look good and feel good in her clothes, AND she does not want to have to think about it. She wants only a few go-to choices that she knows work so she can get dressed quickly and move on to do all the things in life that bring her joy. And I can help her do that!

Styling the Wooland Rowena
Dee Ann and I did a Style Consult to style "Ro" – as she calls the Rowena dress 😍 – with as much of her wardrobe as possible. We put together 15+ outfits using jackets, tees, belts, skinny-leg pants, necklaces, and shoes/boots. We had fun being creative with using the dress as a "skirt" and tunic, layering with tees and jackets, and figuring out how to stay warm in the cold months of the challenge, even though the dress is wool. You know, Minnesota.
We were able to easily dress up Ro for work and go casual for personal life by switching out boots and dressier shoes for sneakers and with different types of jacket or scarf. The suede jacket above and the brown and caramel pashmina scarf both added polish. The denim jacket and heart tee below were more casual, and the fun sneakers definitely brought out Dee Ann's spunk, one of my favorite things about her! (Also check out the pattern on her mask…she's my people!)

How it's going
What Dee Ann has to say about the challenge
Putting on this dress everyday doesn't take any more effort than putting on the yoga pants and T-shirt many of us have been wearing while working from home this past year. But I"m actually getting dressed now, which is better for my general well-being.

I've been something of a clothing minimalist for years, but wearing this dress every day has shown me that I still have items of clothing I don't truly love. As Courtney Carver says, "the easiest way to wear your favorite things every day is to own only your favorite things." And I'm moving further in that direction.

I'm short and (insert whatever word is appropriate here for '40 pounds beyond a healthy weight'; I would just use 'fat'). (From Nancy: fat should not be a bad word! Dee Ann feels this way too. Embracing your body is key to self-love.)

Wearing separates can bisect me visually in ways I usually don't love. I've always preferred dresses with tights, but also always bought pants and skirts because, well, you're "supposed to" own them, right? But guess what, it's the rare pair of pants or skirt that fit me well and feel comfortable. So… most of my pants and skirts are finding new homes.

This style [the Rowena] isn't one I'd normally choose. Given my body size and shape, I prefer fit and flare, or wrap dresses, with a V-neck. But this is their most versatile style, and it was available in my desired color and size when I was ready to start this challenge. Nancy worked with me to style it with my sweaters, jackets, tops, and skinny pants to create outfits with vertical lines, good proportions, etc. So I feel like I look my best every day, and all that takes is adding a cardigan and a skinny belt.

This wool fabric is some kind of magic. I've washed it twice in 47 days.  It doesn't stain and it doesn't smell, and wrinkles fall out overnight. Many of us are trying to eat fewer processed foods, both for our personal health and the health of the planet. I plan to purchase and wear fewer items of clothing made from synthetic fibers moving forward for the same reasons.

The Wooland Socials
Part of the Wooland challenge is to post a picture of yourself in the dress every day for all 100 days. Dee Ann has been doing the challenge for over a month now and is still going strong. You can find Dee Ann's journey on her Instagram page and follow along as she transitions the Rowena into a spring dress.
Merino wool is very lightweight and breathable. It will be interesting to see if it stays comfortable as the weather warms.
How about you?
Which is your favorite styling of the Wooland Rowena? And would you enjoy doing this challenge? Comment with your thoughts on what it would be like to wear the same dress for 100 days!