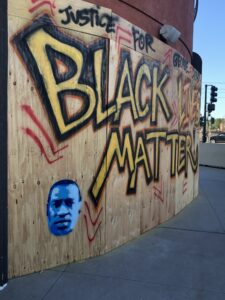 On July 3, 2020
10 Comments
ally, anti-racism, black lives matter, george floyd, womxn in politics, womxn stand up
I'm a middle-aged, middle-class white woman. I've had it pretty darn great my entire life, obliviously resting in the comfort of a society structured by white supremacy. I haven't in any way had experiences like George Floyd or any other Black, indigenous, or person of color (BIPOC) has had.
My formative years were spent in Memphis, Tennessee, in the mid-1970s and 80s, when the efforts of desegregating schools were in process and racial lines were clear. My life was racist by default. There were deep-seated systems in place that it didn't occur to me to question as a child.
When we first moved to Memphis, I started at the local public school. Three days in, my parents transferred me to a private all-girls school. I had an excellent education, but few opportunities to learn about life from other people's perspectives, particularly BIPOC perspectives.
Memphis has come a long way, as has the school I attended. That's not to say there isn't still racism in Memphis, although I believe that the racism we see where I live now, the Twin Cities, is worse.
Racism is alive and well in 'the North'
The economic, education, and equity disparities between white people and BIPOC in Minnesota are among the worst in the nation. (StarTribune, 09/06/2019) Disparities are greatest for Black Minnesotans. The murder of George Floyd by Minneapolis police on May 25, the subsequent protests that turned into riots, and continued daily protests keenly illustrate this.
When I moved here in 1993, Minnesota was considered a progressive state that could almost be labeled socialist in its approach to health care, education, and social services. In the 27 years since, that "care for all" mentality has slowly eroded. The impact has been greatest for BIPOC, because the very foundations of our systems – redlining, bank loans, homeownership, education, and more – have been set in favor of whites. It's an ugly truth that white Minnesotans (some, not all) have finally been acknowledging.
George Floyd brought that into the spotlight. Something snapped the day he was murdered, and there is no going back. It's about time.
How does one work after the murder of George Floyd?
The unrest in our cities was scary. I know that this unrest is a daily reality for many. It sparked world-wide fury about unchecked systemic police brutality towards Black people in the United States. And it is the impetus for much needed change in Minneapolis and in St. Paul.
Finding my way as a white person who recognizes her privilege and as a business owner in the midst of this – not to mention the ongoing pandemic – is fraught. I'm not complaining. I'm acknowledging that these are crazy times, and that even when I have everything I need, it's difficult. One of the things I grapple with is that if it's difficult for me, how is it for those whose daily reality is poverty? Or racism? How about both?
At first I felt I needed to just be quiet. My opinion on matters wasn't appropriate – Black voices needed space to be heard. It felt tone deaf to even attempt to talk about my work.
Now, I want to find my voice as an ally. And not just my voice – I want to ACT as an ally.
NDWC as an ally organization
I have always insisted on diversity in my social media presence – skin tone, body type, age, gender, identity, cultural/religious practice, physical ability. That's only the beginning, though.
Some of you may remember that last fall I soft-launched an initiative, Womxn Stand UP, to assist womxn running for office with their campaign wardrobes. The loss of my mother-in-law and resulting changes for my father-in-law – and then the pandemic – put that effort on the back burner.
My intention was always to include BIPOC womxn in that initiative. I talked with womxn of color to get their perspectives on how I could support BIPOC womxn in ways that celebrate cultural authenticity in the context of running for elected office.
Now more than ever, I want to assist womxn of color to make their wardrobes a tool for empowerment and success in running for office. We need more BIPOC voices in all levels of our government – particularly BIPOC womxn's voices. Watch for more information about Womxn Stand UP, and spread the word to womxn you know who are running.
Me as an ally
George Floyd will forever be a catalyst. I think about his family, and know they wish he wasn't. They wish he was still alive as dad, brother, loved one.
From my comfortable seat in white supremacy-driven privilege, it would be easy to talk the talk and continue as usual with my life. I know I can't do that. I have a lot to learn about anti-racism. And I want to be part of the sea change that is happening. I can't be silent or complacent – none of us can.
Resources to honor George Floyd
There are so many ways to be an ally. Some are easy: show up at protests and support organizations doing the work of making our community more equitable. Some are harder: speak up when you see racism occurring and, perhaps most importantly, acknowledge when you (we) are benefitting from racism and do something about it. It will be uncomfortable, and it will mean giving up things we have taken for granted.
Below is a list of organizations where you can get involved or donate. White people, as the ongoing beneficiaries of a broken system, have work to do.
Official George Floyd Memorial Fund