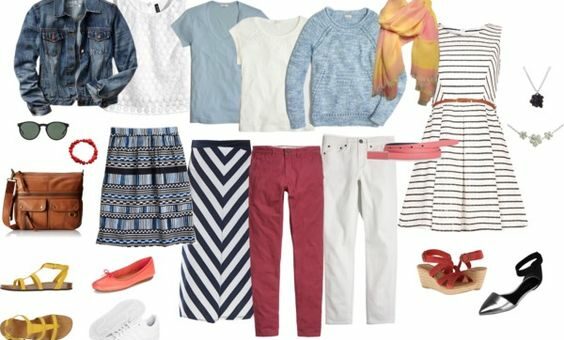 On May 15, 2015
0 Comments
air travel, fashion, polyvore, style, summer style, summer travel, travel, wardrobe capsule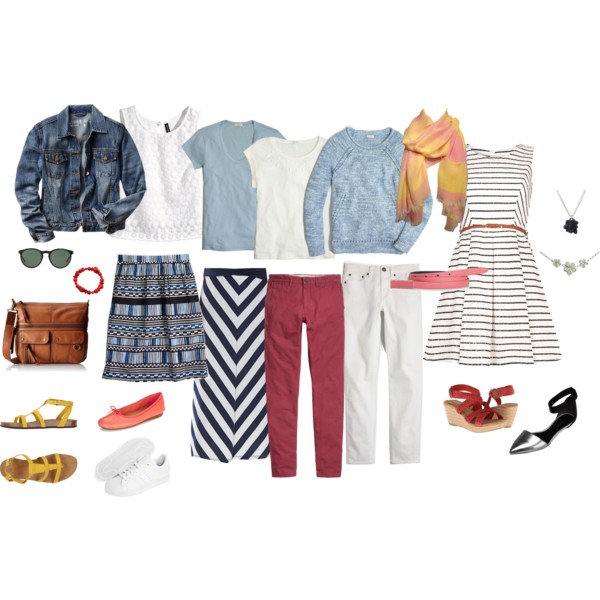 The travel capsule
Summer is drawing near, and with the fabulous weather comes opportunity for travel. Whether it be to visit family nearby or to explore other parts of the world, it's ideal to be able to travel light and still have plenty of choices for outfits that are comfortable and you feel great wearing. Enter the summer travel capsule wardrobe.
The concept of seasonal "wardrobe capsules" has been all over the style and women's blogs lately. The idea is to put together a set of several tops, bottoms, shoes, and a few accessories that all coordinate with each other to create 10-15 outfits – a minimalist, hassle-free approach to dressing by putting thought in up front to create a set of outfits so that you don't have to each day.
Clothing capsules particularly lend themselves to travel. They provide many options with relatively few items, preparing you for weather changes and different circumstances. The capsule above provides enough outfit choices for a two-week trip that includes dressing for evenings out and warm or cooler weather.
The basics
When traveling, wearing items multiple times becomes a necessity, but can be done in a way that feels like you aren't wearing the same outfit every day.
The key is that all the tops can be paired with all of the bottoms. The shoes also go with everything and are used to change the level of dress of the outfit.
Just a few simple, inexpensive accessories that can be added to any combination of tops and bottoms polish off the ensembles without adding a lot of extra bulk to your bag or creating worry about theft or losing them.
Several lightweight tops – two knit tees and a dressier textured sleeveless shirt here – and a summer sweater to wear on its own or for layering if it gets chilly are sufficient (add another tee, if you worry there aren't enough) to match with a couple of skirts, a pair of dressier jeans, and a pair of ankle length chinos.
White-on-white ensembles with white denim are very contemporary, and bright-colored slim fit ankle pants are a polished alternative. Half-tuck the front of the knit tees or the sweater for a little body definition and to highlight a bright-colored belt.
A denim jacket is a perfect travel jacket-of-all-trades (forgive the pun – I couldn't resist!). It goes with every outfit and is easily dressed up or down for a cool day or an evening out. And it's a great layer for air travel.
Summer bottoms
A knee-length skirt is a more sophisticated way to stay cool rather than shorts and is just as comfortable, if not more so. A knit maxi skirt is an excellent option for a long flight – soft, non-binding at the waist, and coverage for your legs – and serves well if the day is chilly or more modest clothing is required for the day's activities.
Bring one dress for an evening or two out and to wear to museums or sightseeing during the day. Pack it inside a dry-cleaner bag before folding it for the suitcase, which will reduce wrinkling.  The skirts can also be dressed up for evenings out with shoe pairings and adding the scarf.
Summer footwear
When traveling abroad, it's essential to have comfortable shoes for walking. Classic white leather tennis shoes are all the rage right now here and in Europe – think Adidas, Tretorns, etc. Wear them with jeans, ankle pants, and short or maxi skirts (sockless or with low-cut footies), and you will be both stylish and ready to walk all day!
Comfort sandals and ballerina flats are cooler for hot days and provide a fun pop of color and polish while still providing support for your feet. Throw in a pair of wedge sandals, which can be surprisingly comfortable for walking (the Minnetonka pair above are lightweight and very stable), and some ankle strap dress flats, and you are set for dressing things up a bit.
Essential accessories
A single large, rectangular scarf is a really handy item for travel. It adds a pop of color to outfits and is easily stowed in your bag. It can also be used as a shawl wrap when the evening gets cool or when your shoulders need to be covered for entering a church or temple (many European religious institutions ask for no shorts and no exposed shoulders) or a highly air-conditioned museum. I've been known to use a scarf as a blanket on airplanes as well – even if it is sheer, it adds warmth!
A cross-body purse is essential – it puts less strain on the shoulders and back, is less prone to pickpocketing, and is easy to access when you need something. The bag I included above is Fossil brand, which I particularly like.
Fossil bags are well-constructed and durable, and they typically have lots of zippered pockets inside and out, which are great for safely organizing things like passports, phones, money, cameras, sunglasses, an umbrella, and other travel sundries.
Have fun this summer
Feeling comfortable and knowing that whatever you pull out of your suitcase will work well together is exciting. and look polished makes traveling all the more fun, as does traveling light. Wherever your journeys take you this summer, savor every moment.
Bon Voyage!