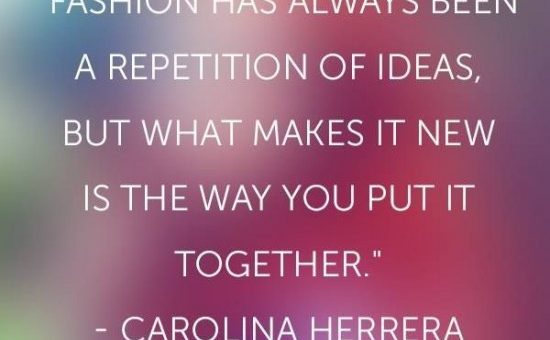 On April 15, 2015
0 Comments
accessories, accessorize, functional wardrobe, personal style, spring fashion, style, third piece rule, twin cities, wardrobe consult, wardrobe refresh
Wardrobe refresh
Earlier this month, I did a Wardrobe Consult with a client. Sometimes these involve purging a lot of clothes that are outdated, worn out, or ill-fitting and replacing them with new to you clothing that offers a lot more fun and functionality for the client. Other times it's more of a wardrobe refresh – we purge very little, but the client feels like they have a whole new wardrobe when we're finished. This was one of those times.
Looking at different ways to pair clothing can increase the options in your existing wardrobe and transform it from a source of immense frustration to one of joy and confidence. Incorporating items that are worn very little because you're not sure how to wear them, making old standards feel exciting again by wearing them with other items than before, and adding accessories like scarves, necklaces, and belts into the mix, makes clothing that feels ordinary or boring instantly become contemporary and fresh.
Following are some of the things I discuss with my clients as we evaluate their wardrobes and re-imagine outfits in new ways:
The third piece rule
The "third piece rule" is something being talked about on many fashion blogs. It is an easy, memorable, and highly effective way to make your clothing go from mere coverage to a polished outfit. Simply add a third piece to what you are wearing. That's it. You have to put on a top (1) and a bottom (2) for coverage; then add a jacket, scarf, distinctive sweater, or statement necklace (3) – instant ensemble! You can even feel daring and add a 4th and 5th element, like a belt, hat, or bracelet to further express your personal style.
Look for contrasting and saturated colors to add vibrancy to outfits
Use black to add dimension to outfits by creating a stronger contrast to colors, and use white to add brightness. If the outfit in the photo above included blue denim jeans instead of white, the crisp contrast between the sweater and jeans would have been lost, making the outfit much less striking. Saturated colors tend to bring out the warmth in any skin tone – unsaturated, or muted colors can wash out your complexion.
Pattern mixing
Don't be afraid to wear prints with prints! Not every print goes together, but many do, and it adds spark and confidence to your outfit when you give it a go. Start small: try pairing plaid or herringbone dress pants with a bold floral or geometric print shirt or jacket. The pattern in the pants serves as texture and adds dimension and polish to the outfit.
With all print pairings, one print should be smaller while the other should be bold. Two prints of the same size compete rather than complement each other. Finding prints that share a common color can help pull them together as well.
For a bright, fresh look, pair stripes with florals – it is very on trend this spring and is a lot of fun. In the casual outfit below, the small floral print on the scarf becomes a texture next to the bold stripes of the sweater, and the navy and pink contrast each other nicely. In the dress casual combination, blue denim and small stripes pair well with the blue tones in the vivid floral pencil skirt; gray muted stripes complement the bold gray and red floral blouse in the dress ensemble.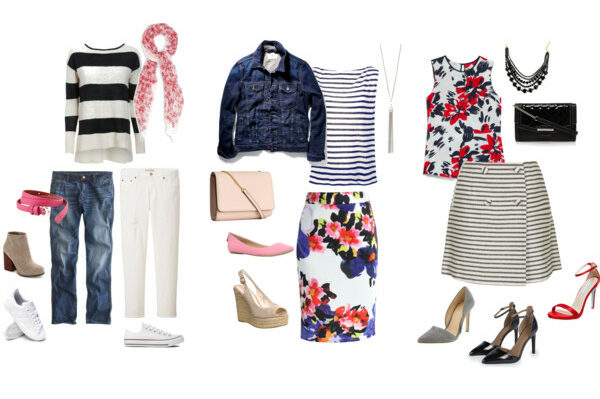 Accessorize, accessorize, accessorize
Adding a belt, scarf, necklace, bracelet, or a combination of the above to an outfit adds polish and shows that you think about what you are wearing, which ultimately conveys confidence. All of us have jewelry in our drawers – be they vintage pieces from our mothers and grandmothers, costume jewelry, or gorgeous handmade works of art. Don't let them languish! They are a perfect way to add interest and balance to an outfit. And scarves can add a pop of color, texture, or pattern to bring energy to what you are wearing.
Shoes can make or break an outfit
Shoes are really important. Yes, for comfort; and also for how an outfit comes together. The shape of the toe, the vamp (covers the top of the foot), and the weight and height of the heel can change the balance of visual lines created by your outfit, whether you are wearing pants or a skirt/dress. The level of dress of the shoe can dramatically change an outfit, as can the color.
It's all about balance
This is the statement I make most often with my clients. It's not about looking tall, or looking thin, or looking whatever. It's about balance. Proper fit and cuts for your body create balanced lines, which look beautiful. Working with items that fit your body well makes dressing so much easier and so much more fun.
With these ideas in mind, try shopping in your own closet for new outfits. There are likely many items lurking in there that could feel new again when worn in different ways. Want help? Contact me today to set up a Wardrobe Consult.