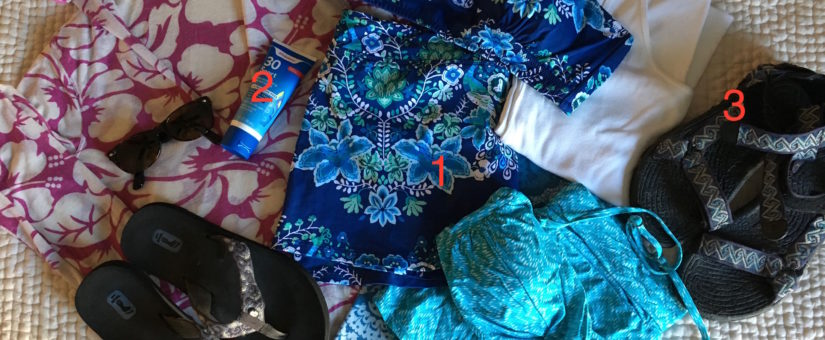 On March 2, 2018
2 Comments
hawaii, spring break, summer style, travel, travel capsule wardrobe
My best friend from high school, Meredith, and I both marked our 50th birthdays this past year. To celebrate, we're going to HAWAII!!! It's been a bucket list destination of mine, and we leave on Sunday for a week of stunning natural beauty, sunshine, beaches, and VOLCANOES. Can. Not. Wait.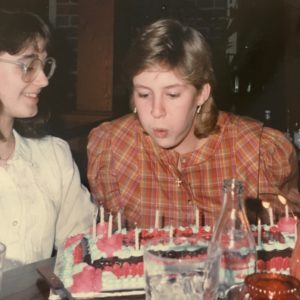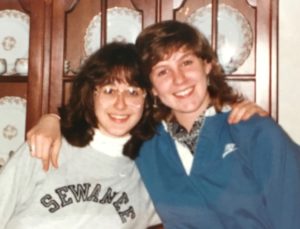 Meredith and I in high school. Let's just say some of my 80s fashion choices and my fascination with perms were unfortunate and leave it at that.
So, what to bring?
Warm weather travel capsule for a carry-on
I like to travel light and not check bags. A travel capsule is the perfect solution.

1. Two swimsuits
At a beach destination, you definitely want two swimsuits. I prefer bikinis, and a lightweight cover-up shirt or a skirt with a tank makes transitions from beach to other activities easy. Flip-flops are a must!
2. Sunscreen
Every single thing I've read about Hawaii emphasizes how important sunscreen is because the UV rays are so intense there. "A sunburn will wreck your trip." I bought a 3-ounce bottle of waterproof sunscreen so I could put it in my carry-on and be ready to hit the beach right away. I'll buy more sunscreen there.
Tip: look for sunscreen with no oxybenzone – an ingredient that stains fabrics and is harmful to coral reefs!
 3. Water shoes
I plan to see a sea turtle up close and personal (again, bucket list), and water shoes allow you to scrabble around easily in the ocean when snorkeling.

4./5. Shorts and shirts
This is where I'm most using the capsule approach – I made sure that I can mix and match my shorts and shirts to make multiple outfits with them. One shirt is long-sleeved in case it is a cooler day or evening.
6. Comfortable sandals
We'll be doing a lot of exploring, so I'm bringing sandals that I know will be comfortable for walking.

7. Sturdy shoes for hiking and longer walking
When we hike the volcanoes and craters in Volcanoes National Park, we'll need more structured shoes. These are super comfy and lightweight, so they'll be good for other uses as well.
Tip: Wear your bulkiest shoes on travel days to make more space in your carry-on.
8. Small backpack, weather gear, and camera
When a vacation includes outdoor adventures, I always bring my small backpack – it's old, but works great for taking a water bottle, sunscreen, hat, camera, and other necessities to the beach or hiking. It rains almost every day in Hawaii (just a little most of the time!), so I've got an umbrella and lightweight rain jacket.
Tip: if your raincoat doesn't have a built-in pocket pouch, zip it, fold longways, and roll it into the hood. (Learned this from my awesome outdoor gear expert nephew!)
9. Athletic wear for hiking and active adventures
It's hot in Hawaii (can't wait to ditch the parka!), so cool clothing will be great for hiking.

10. Sundress and maxi-dress
We'll enjoy the local restaurants, and maybe even go to a luau, so it's nice to have a sundress or two.
11. Lightweight sweater and shawl scarf
If the evenings get cool, I'll wrap a lightweight sweater or scarf around my shoulders. This sweater can also be worn with shorts or thrown on over anything, if needed.

12. Utilize all the nooks and crannies of your carry-on
I pack as tightly as possible in my carry-on – filling in every little gap with socks, underwear, etc. And I use every pocket on the suitcase. The side zip-pocket has a pair of sandals in it! I'll also bring a tote bag to carry my camera, books, purse, and travel sundries.
Visit my Facebook page next week for pics of Meredith and me on our grand adventure!
 Aloha!