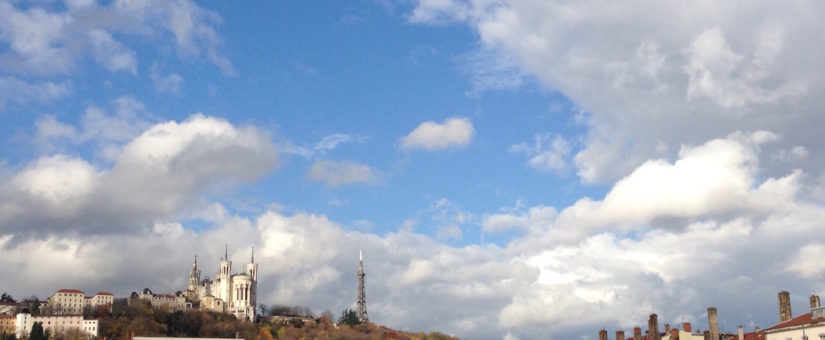 On December 8, 2014
1 Comments
consignment, exquisite food, France, French fashion, Minnesota, shop fronts, style
Lyon
My husband's work brought our family to Lyon, France, for a month. THANK YOU, dear husband! We've been soaking it all in – exquisite food, wine, architecture, and culture. And I have been admiring French fashions (les modes), which are, not surprisingly, quite different from the United States', and particularly Minnesota's.
I have a confession to make: until a few days ago, it's been in the 50s and 60s here. Then it got "cold" – it dropped to the 40s. I do not miss the polar vortex in Minnesota. Not. One. Bit.
We've been doing a lot of walking and, along the way, window shopping. The shop fronts are beautiful. Presentation is clearly a value – in dress, food, and home. What stands out to me most is that care is taken for many things rather than focus on convenience, and quality is prioritized over quantity.
Pairings are given thoughtful consideration – how wine is paired with cheese, how pastries and glorious desserts are arranged, how colors and textures for the home are combined.
With clothing, how things are paired is simple, yet elegant: clean lines; black, embellished with a pop of color; soft, fluid knits in grays, caramels, and winter whites combined; rich fabrics and attention to detail.
The shopping
Seemingly every shop front is a work of art – some quite literally. Everywhere you turn, something lovely appears!
On a side note, I did try my hand at consignment clothing in Lyon – called dépot-vente vêtements – and found quite a few shops. I also discovered their approach is different from consignment shops in the Twin Cities – these tiny boutiques primarily sell a small selection of very high-end designer items. Coincidentally, the shop I found with the most selection was one block from our apartment!
Lyon has been inspiring – I look forward to looking at my wardrobe – and my clients' – with a fresh eye for elegant simplicity and thoughtful pairings.
À bientôt, mes amis!