On October 27, 2022
0 Comments
election, empowerment, getoutthevote, gotv, make your voice heard, midterms
by Adam Baier
It's that time again
November is approaching, and the time to vote is here. Election Day is Tuesday, November 8!
As the cold air moves in, we should be moving politically to do our part in government participation. Voting is our one way of influence we have on government. It is the way we can voice our opinions, have them heard, and have them counted.
My first vote
This was the first time I was eligible to vote. Here, I will share my voting experience as a college student and first time voter. I had really no idea where to begin. To vote I knew I had to register, but how do I do that?
I went to my generation's go to for answers: the Internet. As it turns out, in Wisconsin, one can actually register to vote online at My Vote Wisconsin in a matter of a few minutes. I don't think it could have been easier, because all you need is your driver's license.
Then I got my absentee ballot, because I cannot vote in Eau Claire, where I go to college, due to my permanent residency still being with my parents. I requested my ballot, and it was sent to me in Eau Claire after a few days – how quick! There were step by step instructions on how to fill out the ticket. I then voted here in the comfort of my home and mailed it back to my hometown to be counted.
The younger demographic
It's statistically shown that young people make up the smallest percentage of voters. I wondered why that is.
I can understand how it can be a difficult process, especially for college kids. When you're at college it's hard to find the time to register and you may not even know how. As a college kid myself, finding the time or even the energy to go online and take the time to pull out all my information sounds exhausting.
Most college kids are full-time students, work a part time job, and are living life on a budget; this can cause a lot of stress for a young person who is new to managing an adult life. I know the first thing I want to do when I come home is relax, and the last thing is going online to register for voting.
So, the question is: how do we get young people motivated to stand up and vote?
Deterrents to voting
There are many reasons young people feel turned away from voting. One I think of is that many say, "What's the point? I have no effect on the laws that Congress pass."
I believe this way of thinking originates from the Electoral College system of the Presidential election. Unlike Congressional voting, the Presidential election is made by the Electoral College.
The Electoral College
The Electoral College is a system of voting where, based on a state's population, a certain number of points is awarded to the candidate who wins that state. This system is flawed, however, because the amount of people who vote in a state doesn't determine its number of points, but rather the state's entire population. This includes those who didn't vote.
There's evidence that the system is flawed. In the 2016 election Presidential candidate Hillary Clinton won the popular vote, and Donald Trump won the Electoral College; he was elected President. This system is not representative.
Many young people are deterred from voting due to this flawed system, because it illustrates that your vote doesn't necessarily reflect the popular vote. However, all other elections are done by popular vote. The Electoral College has caused many young, inexperienced voters to have a clouded view of our system of voting.
Television
I believe young people are also deterred from voting because of  TV advertisements. I'm just over here trying to watch NBC's "The Office," so I can get a good laugh, and all of a sudden it's the commercial break, and all I hear is, "have you heard about the radical agendas of … , they're coming for our families, and our jobs."
I just don't want to hear a criticizing political commercial when I'm watching a comedy. If I wanted to watch a debate I'd turn on CNN or another news channel. Or if it's a Presidential debate, you know I'm watching them on Saturday Night Live for sure!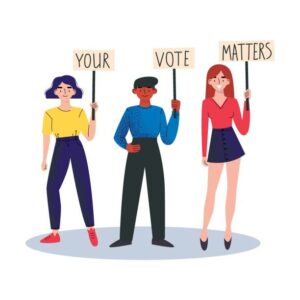 Vote
Despite all of these deterrents, everyone should get out and vote this November! Especially young people, because even though we have a lot going on, our voices need to be heard. We are the next generation of influencers, engineers, CEOs, parents, and adults of our society.
The power to act and make change is in our hands, and that power starts now. So get out and vote on November 8, because EVERY vote counts!
Great resource for learning more about candidates in your area