On June 19, 2017
2 Comments
#MNHD17, #NHD2017, national history day, national history day in minnesota, packing light, summer travel, washington dc
Last week my family traveled to Washington, DC, because my daughter Grace was competing in National History Day (NHD). She won First Place in the Junior Research Paper category at the Minnesota State Competition in April, which earned her a spot in the national competition – super exciting, and we were over the moon!
The weather forecast was for upper-90s all week, and – for once – it was completely accurate. What to pack when it's going to be blistering hot for a week, and you know you will be touring outside for much of the time?
beat the heat
I almost always travel with only a carry-on roller bag, and this time was no exception. Since I knew that I needed to focus on staying cool, I packed several summer dresses, a pair of shorts, one skirt, one sleeveless blouse, one t-shirt, 3 pairs of sandals, and two pairs of sneakers. (I know – a lot of shoes, but these are what give you choices for dressing up or down and comfort for a lot of walking.) I also added a lightweight scarf to throw on in case I got cold in air-conditioned museums, which came in very handy.
On the travel days, I wore cropped jeans, because I always freeze on the plane. I used my scarf on the way there – I would have been shivering in the sleeveless blouse without it.
To see photo captions, hover over the bottom of the photo or click on it to enlarge.



keepin' it real
I often hear from my clients that they chose me and enjoy working with me because I am a "real" person, not super trendy or focused on being a fashionista. And that makes me really happy, because what I do is to help people feel authentic in expressing their personal style and feel great while they're at it.
As you can see from the photos, I'm definitely keeping it real. When it's over 90 degrees by 10 AM, the level of dishevelment progresses quickly! I have an appreciation for all those fashion/travel bloggers who curate their photos to perfection – we would have had to spend the entire week working on just that, but that's not why we were there. So, here's to living real life!

So, it was hot. SO. HOT. You can see the flush on our faces and, yes, the heat was radiating off the pavement in full force! Dresses were the way to go – cool and breezy.

awkward turtle
I'm a reluctant photographic subject. I LOVE being the photographer, but put me in front of the camera, and I go stiff as a board. Grace was my trusty "outfit of the day" photographer on this trip, and for some reason all the photos for this day's shoot were looking really, really awkward (it was me, not the photographer). Grace's teacher had just taught us the awkward turtle the day before, so I did it to try to relax – it was the only photo that worked! Again, keepin' it real, people.

nevertheless, she persisted
Grace and I got these shirts before our trip, and we thought the Martin Luther King, Jr. memorial was an appropriate place for the message. This memorial was really powerful – the artist captured the significance of Dr. King's place in history in a moving way.
A really big bonus – we saw Senator Elizabeth Warren in one of the Senate Buildings the following day! Both Grace's teacher and I were starstruck and speechless!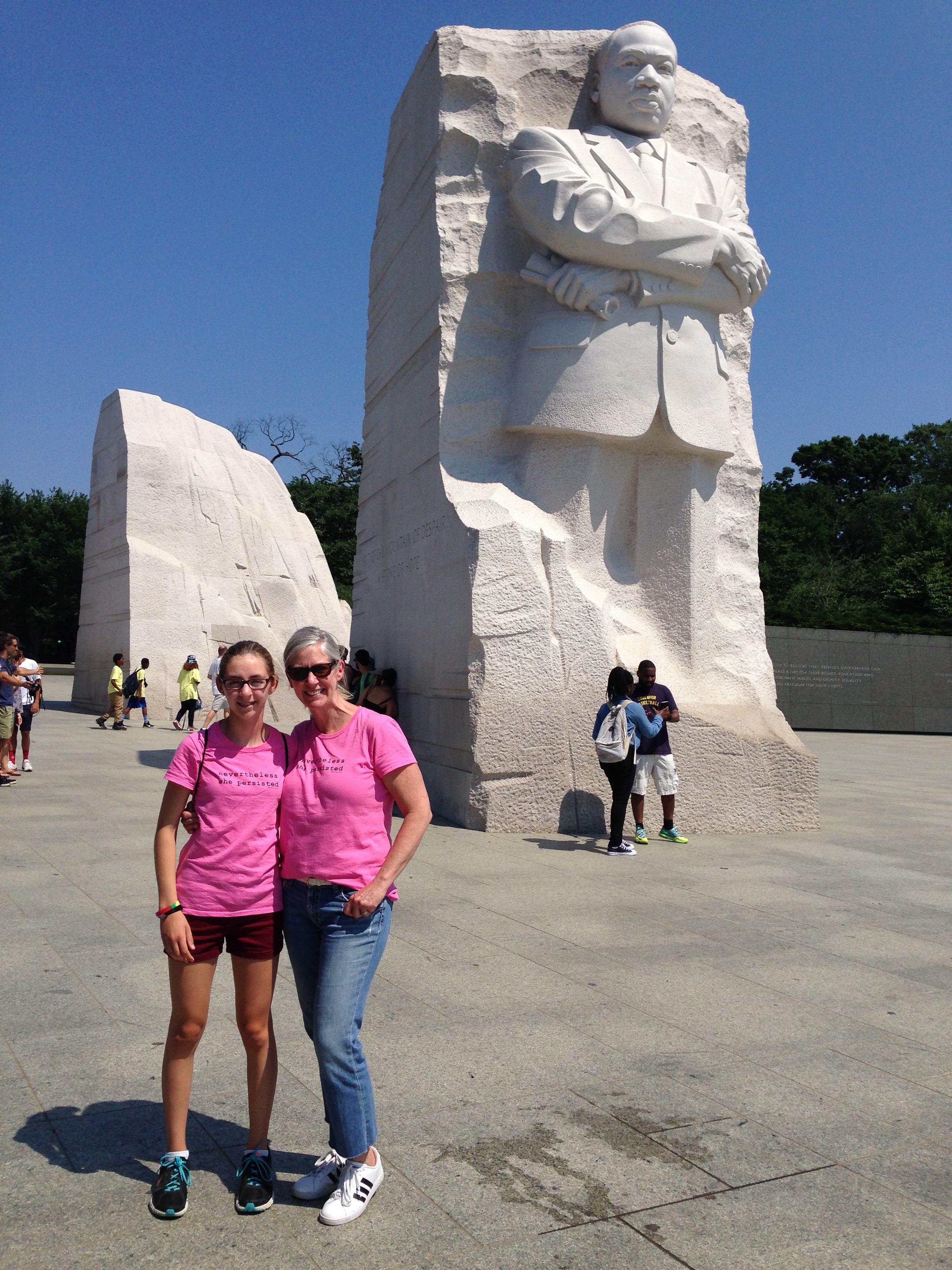 national history day
Grace won second place in her category for the national competition!! It was so exciting to see our daughter recognized in such a way for her hard work, determination, and you better believe it, persistence!