On July 26, 2018
0 Comments
closet organization, functional wardrobe, nothing to wear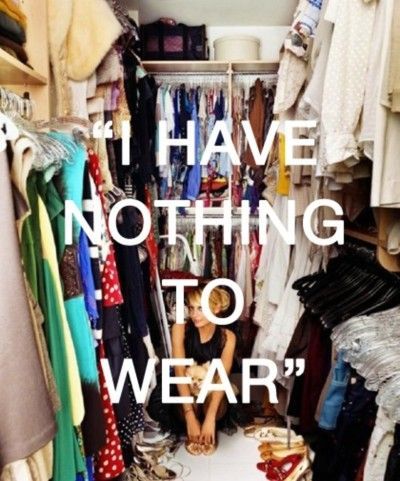 We've all had that feeling before. You open up the closet doors and look at the jumble. The despair comes creeping in. Even though the closet is full, you feel like there is nothing to choose from that will work – much less make you feel great – when you put it on.
A big part of the issue may be organization – you can't actually SEE what the options are! As I said in my last post on my methods for clothing care, multiple clients have been asking about how best to organize their closets. Knowing what's in your closet, purging the items that no longer work, and organizing it in a way that works for you is essential to a more functional wardrobe.
organizing 101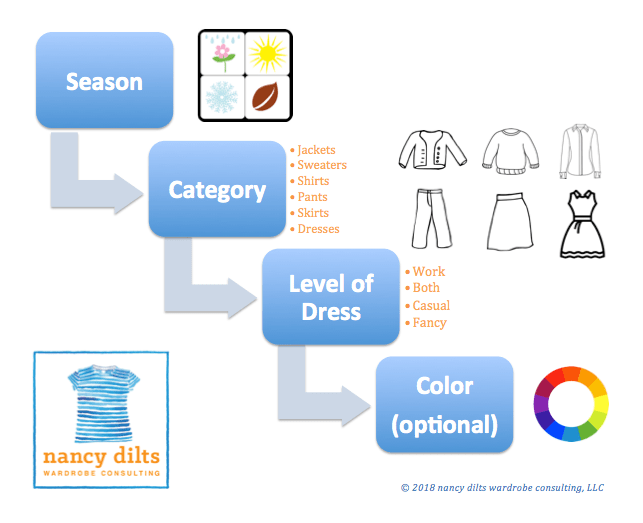 I organize my wardrobe in the hierarchy illustrated above. It's not rocket science, which is why it works for me. I'm able to find pieces easily in each category, and nothing gets lost in the shuffle.
season
Even if your closet is big enough to hold all seasons of clothing (lucky!), it is still helpful to separate them. Some will be transition items that can either migrate or have their own section.
Organizing by season allows you to interact with your whole wardrobe at least two times a year, which helps you to remember what you have, think about what you are and are not wearing, and make decisions accordingly. This is a great time to purge pieces that you aren't wearing, for whatever reason.
category
Some folks like to organize by work wardrobe and personal life wardrobe. I feel like pieces can be forgotten this way, and it's easier for things to become disorganized. Organizing by category after season helps you to see regularly what pieces are there.
level of dress
This part of the flow chart is one that can make all the difference in the world. Many workplaces are becoming more casual, so pieces often cross over between work and personal life. Putting the pieces that can be worn both for work and casual between the two will make sure you see them when choosing outfits. These pieces can be used to dress more casually at work when appropriate and to dress up an outfit for going out or when you want to look more polished in your personal life.
color
I choose not to organize by color because my wardrobe isn't that large, but some people find it to be really helpful. This way you know what all your choices are for the color you are selecting.
PRO TIPS:

Make sure you can see everything

Find a system that works for YOU

Organize by season, then use your system within that season

Engage with your whole wardrobe two times a year
you can do it!
The key to success is sticking with your system. Once you've got a system set, it's easy to maintain, and the relief of not having to face the jumble every day is SO WORTH IT. And your wardrobe will be more functional, making daily dressing easier. And who doesn't want that?


SaveSave