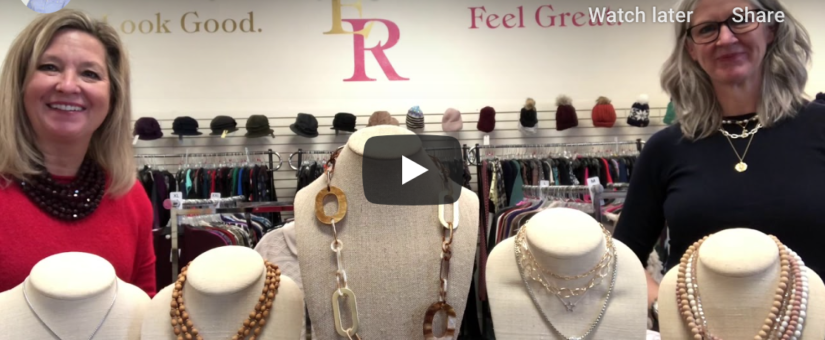 On November 17, 2020
0 Comments
Watch all Ask the Stylist videos and more on my YouTube Channel!
Ask the Stylist 8 – Upping Your Zoom Game Part 1
Transcript
Missy: Hi, everyone. Welcome to Elite Repeat's Ask the Stylist. I'm Missy from Elite Repeat, and I'm here with my friend Nancy Dilts from Nancy Dilts Wardrobe Consulting.
Nancy: Hi, everybody!
Missy: Today we're answering a question from Facebook about the Zoom meeting. How do we up our Zoom game?
Nancy: Yes.
Missy: And this part is going to talk about necklaces. So, Nancy, talk to me about that beautiful mess you've got going on.
Nancy: I do, actually. It's literally, it's a big trend for this fall, and it's called a "necklace mess." I'm going to do what you don't do in Zoom. Do not get really close to the camera like this because people will just roll their eyes at you. But I'm going to show you, this is a necklace mess, where you're layering finer, smaller pieces, ones that don't pop quite so much, but when you put them all together, it makes a really interesting combination of textures, and metals, and all that stuff. That's called the necklace mess, and you can have a lot of fun with that with vintage jewelry, too.
Missy: Okay, so that's what you're doing there, mixing some of your older pieces?
Nancy: Exactly. I have things from my mother, and then actually a link necklace that's from Elite Repeat that's super fun and very contemporary, and just mixing it all up and having a great time, and that creates visual interest right at my face.
Missy: And it looks great.
Nancy: Well, thank you! Another thing that you can do is you can use a bold necklace. So the things that you want to pay attention to is something that pops, that's bolder, and look at that fantastic piece that Missy has on.
Missy: Isn't this awesome?
Nancy: That's available here at Elite Repeat, too. It's gorgeous. You want it to be bolder and not too long. So if you look at this necklace, if you wore this really long, the interesting part of the necklace wouldn't show at all. This one actually is adjustable, which is great. You can shorten it to have it so that the pendant shows, or you can do something like this necklace, where there's interest all the way up. So even though the bottom half doesn't show, it's still looking fun.
Missy: Okay.
Nancy: Another thing you can do is go for a shorter necklace, but choose chunkier, something that pops a little bit. Or if you choose something more classic like this one down here, wear it on a dark color so it pops against that color. So graphically simple, chunkier, shorter.
Missy: Okay. So really not stressful, just put something on?
Nancy: Just pop something on. It shows that you tried.
Missy: Okay. Next week, we are going to talk about the scarf adding some zazz to your Zoom, and we'll go from there.
Nancy: Sounds good!
Missy: All right. Have a great week, everyone. Thanks for joining us. Bye.
Nancy: Bye bye.
More inspo for bumping up your outfit
Check out some other ways to add instant easy style to your outfit in Wardrobe Refresh.