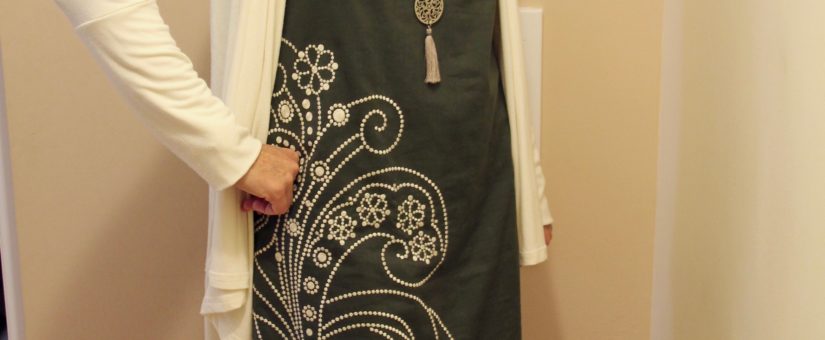 On September 8, 2016
0 Comments
#sustainableconsumerism, consignment shopping, early fall outfit ideas, fall fashion, fall transition, personal style
The shift to fall clothing is always hard for me, and I can get a little irritable (my husband might say a lot…). The weather is still warm, but it's September, school is in swing, and it doesn't feel overly summery anymore. What to wear? It's too hot for true fall clothing – fine-gauge sweaters, blazers, big scarves, booties and tall boots – but sundresses and shorts don't feel right either.
Here are three outfit ideas to help ease the transition. Adapt them to your personal style using these basic guidelines.
shift from summer brights to neutrals and darker colors

wear cropped pants and jeans – cooler, but suggest fall

use lightweight silk scarves to add polish, but not warmth

replace sandals with close-toed shoes like flats, mules, and sneakers – still great for warm weather, but not too summery
Almost all of the clothing in these outfits is new-to-you. I've included where I purchased each item to give you a sense of the breadth of selection you can find when shopping consignment. Practicing sustainable consumerism rocks!
Pair a summer dress with straight-leg jeans and flats
This darker summer dress works great as a tunic over straight-leg jeans, giving it a little more mileage before I put it away. This makes me happy, because it's one of my favorites. I can even layer a lightweight long cardigan over it and switch out the flats with booties as the weather gets cooler.
Add a classic silk scarf to a short-sleeve tee and culottes
Neutrals work really well for fall transition. Add a pop of color with a silk or faux-silk scarf – they are lightweight and comfortable – and all the rage. For tying ideas, see this post. Open-heeled mules are on trend as well and add polish. My Cole Haan pair from Elite Repeat were a score – brand new and 85% off the retail price!
Wear a lightweight jacket over a cami with cropped jeans
For casual, pair fun sneakers with flared or wide-leg cropped jeans. Add a fitted lightweight jacket – over a cami to stay cool – and a neckerchief. I typically shop at local consignment stores to be able to try things on and to support our local economy. Occasionally, I buy through online consignment venues like thredUP if I can't find something. I had been looking for a pair of classic Adidas sneakers for awhile and couldn't pass them up when I found them!
Your turn
What are some ways you manage the fall transition? Share your outfit ideas (and pics! 🙂 ) in the comments below.